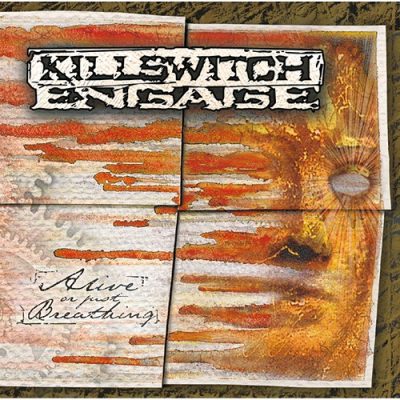 KILLSWITCH ENGAGE
Alive Or Just Breathing
(NWOAHM)
---
Release: 27.05.2002
---
"Are we alive or just breathing
Don't close your eyes, see the images…
The sky weeps tonight, our bodies washed away
I am waiting for you, deliverance"Just Barrely Breathing
Beim ersten Hinhören dieser genialen Scheibe NWOAHM (New Wave Of American Heavy Metal), einer Art Abspaltung des Metalcore, bin ich schon gefangen! Das Teil geht ab wie Sau, hält mit Ihrer Wut und Aggression absolut icht zurück und geht doch verdammt gut ins Ohr. Man höre nur "Just Barrely Breathing" – Gänsehaut!
Doch eins muss man ihnen lassen – dieses Mal hat es eine Band geschafft neben dem ganzen Einheitsbrei ein Album abzuliefern, dass sich vor allem in Punkto Spielfreude und coolen Riffs wahrhaft hervorhebt. Auf "Alive or just breathing" vereinen sich 12-Songs vielseitigster Natur zu einem Zweitwerk, das fetter nicht sein könnte. Dazu gibt's Killerriffs und Präzisionsdrumming vom Feinsten. Doch das wahrscheinlich herausragenste Element ist mit Sicherheit der überaus abwechslungsreiche Gesang von Frontsau Jesse Leech. Er schafft das was viel andere Bands vergeblich versuchen. In der einen Sekunde gekonnt gebrüllt in der anderen das glasklare Glockenstimmchen, aber immer perfekt zum Song passend. Egal ob das Aggressiv-Theatralische "Numbered Days", das wirklich emotionale "My Last Serenade", welches die wohl härteste Ballade aller Zeit darstellt, oder das unglaublich aggressiv auf den Punkt gebrachte "To The Sons Of Men", der Mann ist ein echte Stimmchamäleon und hat sowohl die Growls als auch die cleanen Parts mehr als perfekt im Griff.

Wieder mal beweisen ,die mittlerweile zum Kultlabel avancierten Roadrunner Records, dass sie definitiv ein goldenes Händchen besitzen, wenn es darum geht gute neue Acts zu rekrutieren. Für Freunde der härteren Gangart stellt "Alive or just breathing" ein absolutes Muss dar. Diese Band hat mit Sicherheit noch viel vor und wird in naher Zukunft bestimmt zu einem großen Thema. Wir drücken die Daumen.
---
Tracklist "Alive Or Just Breathing":
1. Numbered Days
2. Self Revolution
3. Fixation on the Darkness
4. My Last Serenade
5. Life to Lifeless
6. Just Barely Breathing
7. To the Sons of Man
8. Temple from the Within
9. The Element of One
10. Vide Infra
11. Without a Name
12. Rise Inside
Gesamtspielzeit: 44:51

---
KILLSWITCH ENGAGE – Alive Or Just Breathing
LineUp:
Jesse Leach
Adam Dutkiewicz
Mike D'Antonio
Joel Stroetzel