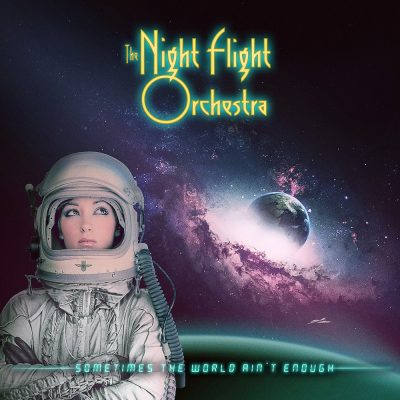 THE NIGHT FLIGHT ORCHESTRA
Sometimes The World Ain't Enough
(Classic Rock)
---
Release: 29.06.2018
---
This time
Death is certain but
We'll be fine in the end
This Time
THE NIGHT FLIGHT ORCHESTRA flog mit den ersten beiden Alben unverständlicherweise komplett unter dem Radar. Unverständlich, weil sich hinter dem 80s Rock Projekt Namen wie Björn Strid (SOILWORK), Sharlee D´Angelo (ARCH ENEMY) sowie Mitglieder von MEAN STREAK oder GATHERING OF KINGS verbergen. Doch dank "Amber Galactic" und dem neuen Partner Nuclear Blast bekamen die Herren endlich die nötige und auf jeden Fall verdiente Anerkennung.
Trotz neuem Album von ARCH ENEMY und auch einem SOILWORK Werk in der Mache, haben es die fliegenden Musiker dennoch geschafft, in fast genau einem Jahr den Nachfolger "Sometimes The World Ain´t Enough" einzuspielen, und das ohne einen Qualitätsverlust spüren zu lassen.
Locker, spritzig und saucool rocken sich die Schweden hier durch zwölf Synthie-geschwängerte Sommer-Hit Kandidaten, die nur so vor 80s Vibe sprühen und auch mit einem Gastauftritt von David Hasselhoff wunderbar funktioniert hätten – nur, dass THE NIGHT FLIGHT ORCHESTRA ihr Schaffen absolut ernst nehmen. Dass Björn abseits des Melodic/Modern Death Metal Genres funktioniert, hat er schon bei verschiedensten Projekten bewiesen und zeigt dementsprechend auch hier sehr viel Gefühl und Gespür für lässige Vocallines, wird aber immer wieder von weiblichen Chören unterstützt. Neben den rockenden Nummern versuchen sich die 80s-Musikanten auch im QUEEN Universum, was beim pathetischen und leicht kitschigen "Moments Of Thunder" mit reichlich Klavier, Chören und Emotion auch wunderbar funktioniert. Ansonsten stechen gerne Truppen wie ASIA, THIN LIZZY, EUROPE oder BON JOVI durch. So wird im Verlauf immer wieder zwischen Classic Rock, AOR und Synthie-Pop-Rock gewechselt. Vielleicht hier und da mal näher am Kitsch als nötig, aber stets auf hohem Niveau und großem Unterhaltungsfaktor.
THE NIGHT FLIGHT ORCHESTRA beweist nun erneut, dass es sich hier nicht um eine generische Supergroup handelt, denn hier wandeln alle Musiker auf einem ganz anderen Pfad, den sie aber perfekt meistern und auch mit "Sometimes The World Ain´t Enough" mühelos abliefern. Der perfekte Sommerhit!
---
Tracklist "Sometimes The World Ain't Enough":
1. This Time
2. Turn To Miami
3. Paralyzed
4. Sometimes The World Ain´t Enough
5. Moments Of Thunder
6. Speedwagon
7. Lovers In The Rain
8. Can´t Be That Bad
9. Pretty Thing Closing
10. Barcelona
11. Winged And Serpentine
12. The Last Of The Independent Romantics
Gesamtspielzeit: 58:22
---
facebook.com/thenightflightorchestraofficial
THE NIGHT FLIGHT ORCHESTRA – Sometimes The World Ain't Enough
LineUp:
Björn "Speed" Strid
Sharlee D'Angelo
David Andersson
Sebastian Forslund
Jonas Källsbäck
Richard Larsson