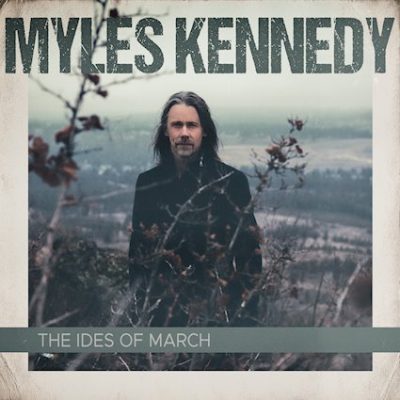 MYLES KENNEDY
The Ides Of March
(Rock | Country)
---
Release: 14.05.2021

---
MYLES KENNEDY, seines Zeichens Fronter der Überflieger ALTER BRIDGE, aber auch Sänger vom SLASH-Soloprojekt hat wohl Blut geleckt und bietet nach dem 2018er Solo-Debüt sogleich den Nachfolger "The Ides Of March".
Wo der Erstling eigentlich fast nur im Blues Rock verwurzelt war, traut sich der Amerikaner hier schon etwas mehr aus sich heraus und bietet eine überraschende Mixtur aus ALTER BRIDGE, locker-flockigen Rock, Country, aber auch tiefgründige Kost. Da gibt es viel Dynamik, Southern-Flair und Rock, der gut ins Ohr geht aber eben auch ein paar düstere Seiten von Hr. Kennedy zu hören. So auch beim fast episch ausufernden Titeltrack "The Ides Of March" oder dem melancholischen Southern-Stück "Love Rain Down", bei dem der Sänger einmal mehr zeigen kann, dass er nicht nur Hymnen rausposaunen kann. Da er sich ja auch gerne bei ALTER BRIDGE immer mal wieder die Gitarre umhängt, ist klar, dass er auch hier mal zeigen kann, was er auf den Saiten kann. Und das tut er auf vielseitige und dynamische Weise. Da kann es auch schon mal sein, dass er den BON JOVI oder in WHITESNAKE Gefilden schwelgt. Verletzlich zarte Seiten zeigt der Vollblut-Rocker jedoch bei Songs wie "Love Rain Down" oder "Wanderlust Begins", das er auch locker auf einer Lagerfeuerrunde schmettern könnte.
"The Ides Of March" wird Fans von Myles sicher gefallen. Ein Faible für Country und Southern Rock sollte man vielleicht schon mitbringen, weshalb auch Fans von BLACK STONE CHERRY ein Ohr riskieren sollten. Diese bekommen hier ein dynamische, abwechslungsreiches und auch persönliches Werk ALTER BRIDGE Fronter kredenzt.
---
Tracklist "The Ides Of March":
1. Get Along
2. Thousand Words
3. In Stride
4. The Ides Of March
5. Wake Me When It's Over
6. Love Rain Down
7. Tell It Like It Is
8. Moonshot
9. Wanderlust
10. Shifting Through The Fire
11. Worried Mind
Gesamtspielzeit: –
---
www.myleskennedy.com
www.facebook.com/OfficialMylesKennedy
MYLES KENNEDY – The Ides Of March