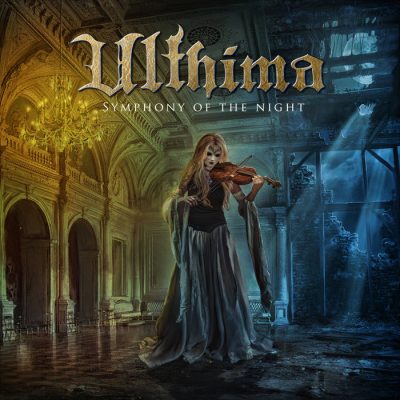 ULTHIMA
Symphony Of The Night
(Melodic Death Metal)
---
Release: 19.03.2021
---
Wer zu spät kommt, der erfriert in der Wintersonne. ULTHIMA aus Finnland sind für ihren Stil etwas spät dran, könnten aber durchaus mal in die Presche von aufgelösten Truppen wie NORHTER, CHILDREN OF BODOM oder den sowieso immer ewig prokrastinierenden WINTERSUN und den verschollenen SKYFIRE springen.
Eigentlich braucht man auch nicht mehr viel erzählen, denn wenn man auf die genannten Truppen steht, dann sollte man zumindest im Ansatz auch die Melodic Deather von ULTHIMA mögen. Kühle Keyboards, knackige Riffs, Gitarrenakrobatik sowie thrashig-speedige Ausrichtung gepaart mit kratzigen Vocals sind hier nämlich an der Tagesordnung und bringen die genannten Truppen schnell ins Spiel. Das machen die Herren aus Uusima auch anständig und auf technisch hohem Niveau, können aber dabei kaum mehr überraschen.
Interessant dabei ist aber, dass die Truppe eigentlich schon vor über zehn Jahren ihren Ursprung im sonnigen Monterey, Mexiko hat. Die Gründer Antonio Valdés und Ricardo Escobar stammen nämlich aus dem Süden Nordamerikas und sind extra nach Skandinavien gezogen, um ihren Traum des Melodic Deaths zu verwirklichen. Hätten sie da mal noch ein paar Einflüsse mit hinauf genommen, hätte das Debüt "Symphony Of The Night" neben überaus solider Technik und gelungenem Songmaterial auch noch einen gewissen eigenen Charme entwickeln können. So bleibt aber ein mehr als solides Stück Genrekost im Geiste der genannten Referenz-Bands. Nicht mehr, aber definitiv auch nicht weniger.
---
Tracklist "Symphony Of The Night":
1. Black Swan
2. Tears Of Fire
3. Belegar
4. Daughter Of Twilight
5. Beyond The Veil
6. Eternity
7. Dancing With Shadows
8. Ulthima
9. Symphony Of The Night
Gesamtspielzeit: 40:01
---
ULTHIMA – Symphony Of The Night
LineUp:
Antonio Valdés (Bass)
Ricardo Escobar (Guitar)
Ville Nummisalo (Drums)
Jon Welti (Guitar)
-
Niko Sutinen (Keys)
Tuomas Antila (Vocals)