Innerhalb der ersten zehn Sekunden ihrer neuen Single "Hypercube Necrodimensions" gibt die Wizard-Metal-Supergroup WIZARDTHRONE (mit Mitgliedern von ALESTORM, GLORYHAMMER, AETHER REALM, FORLORN CITADEL, NEKROGOBLIKON und anderen) mit ihren vielschichtigen Synthie- und Gitarren-Riffs, kombiniert mit einer ausdrucksstarken Gesangseinlage, Vollgas! 
---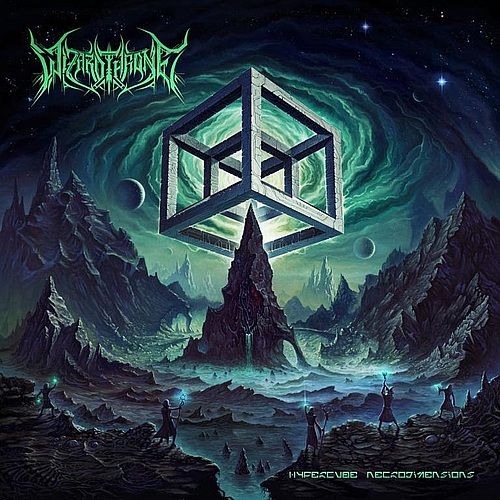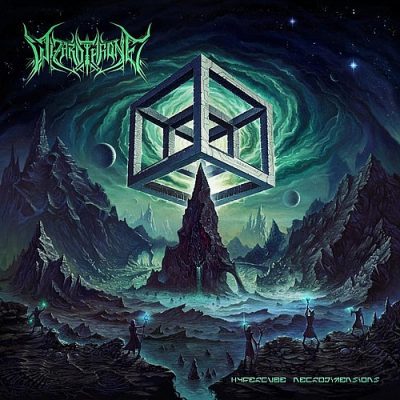 Der Titeltrack von WIZARDTHRONEs Debütalbum "Hypercube Necrodimensions" (erscheint am 16. Juli über Napalm Records) ist ein rasanter Ritt durch Zeit und Raum, der den Hörer durch alternative Realitäten katapultiert.
Mit ihrem neuen Track zeigen die Fünf einmal mehr, was sie musikalisch drauf haben. Sie kombinieren ihre verschiedenen Genre-Einflüsse mit klanglicher Raffinesse zu einem rasanten Wirbelsturm der Extreme!
M. Archistrategos Barber erzählt:
"With the title track, "Hypercube Necrodimensions", we stripped down the core elements of WIZARDTHRONE to their bare essentials, culminating in a compact and furious number. Unconventional harmonies, dense orchestration and blazing thrash metal provided a fitting bed for lyrics that had lain dormant for at least a thousand aeons – exploring cryptic themes that the shrewd and astute will of course recognise as containing the blueprints to reality itself. Extraordinary!"
Mit Gastauftritten von Aleksi Munter (SWALLOW THE SUN/INSOMNIUM), Florian Magnus Maier (DARK FORTRESS/ALKALOID) und Evan Berry (WILDERUN) ist Hypercube Necrodimensions eine spektakuläre Darbietung der musikalischen Finesse von WIZARDTHRONE, die die Grenzen des Heavy Metal immer wieder neu auslotet und so ein einzigartiges, extremes Wizard Metal-Hörerlebnis bietet!
Hypercube Necrodimensions wird als Digipack-CD im Bundle mit einem exklusiven Shirt und als schwarze Gatefold-LP, sowie als marmoriertes Curacao/Grün-Vinyl (limitiert auf 300 Stück) und als digitales Album erhältlich sein.
Tracklisting:
1. Black Hole Quantum Thermodynamics
2. Frozen Winds of Thyraxia
3. Incantation of the Red Order
4. Forbidden Equations Deep Within the Epimethean Wasteland
5. The Coalescence of Nine Stars in the System Once Known as Markarian-231
6. Of Tesseractual Gateways and the Grand Duplicity of Xhul
7. Hypercube Necrodimensions
8. Beyond the Wizardthrone (Cryptopharmalogical Revelations of the Riemann Zeta Function)
---