Es ist "P.A.R.T.Y."-Zeit! Schnappt euch einen Drink und kommt an Bord, denn die berüchtigte und ungestüme Piraten-Metal-Gang ALESTORM hat die zweite Single aus ihrem kommenden Album "Seventh Rum of a Seventh Rum" veröffentlicht – die ultimative Piratenparty-Hymne: "P.A.R.T.Y."!
---
Der energiegeladene Track ist möglicherweise das bisher eingängigste Stück der Band – vollgestopft mit mitreißenden Gesängen und Videospiel-tauglichen Synthesizern, die den Hörer dazu verleiten, sich einen Drink zu schnappen und mitzusingen und keinen Matrosen zurückzulassen. Der tanzbare Folk-Sound von "P.A.R.T.Y." wird mit Sicherheit den Drang wecken, seine Crew zu versammeln und Arm in Arm fröhlich mitzuwippen. Setzen Sie die Segel und begleiten Sie ALESTORM auf ihrer Piratenparty auf hoher See!
Christopher Bowes über "P.A.R.T.Y.":
"Oh wow! We tried our best to make Seventh Rum of a Seventh Rum into a serious album, but of course we're not very good at that, and the temptation to make a disco party anthem was all too great. So we ended up with this song. Extra special thanks to the wonderfully talented Alex Henderson for making this amazing animated video, and of course thanks to Matt Cockram for playing the egg (it's just before verse 2, if you're interested)."
ALESTORM verbrachten zwei Jahre während des Lockdowns damit, verrückt zu werden und verzweifelt die verrücktesten Piraten-Metal-Hymnen aus ihrem Ideenschatz auszugraben, und haben das epischste und ernsthafteste (ja, ernsthaft) klingende ALESTORM-Album geschaffen, das man je gehört hat. Vom symphonischen, von Chören getragenen "Magellan's Expedition" bis zur mitreißenden Hymne "Under Blackened Banners" mit intensivem technischen Riffing und exquisiten Soloduellen ist "Seventh Rum of a Seventh Rum" ein echter Rückgriff auf die frühen Tage von Captain Morgan's Revenge. Aber auch Fans des modernen ALESTORM-Sounds brauchen sich keine Sorgen zu machen – es gibt jede Menge Party-Stimmung im treffend benannten zukünftigen Hit "P.A.R.T.Y.", und der rasante, verrückte Folk-Metal-Knaller "Cannonball" hat den lächerlichsten und anstößigsten Text, den man je in einem Piraten-Metal-Song gehört hat (dagegen klingt "Fucked With an Anchor" zahm).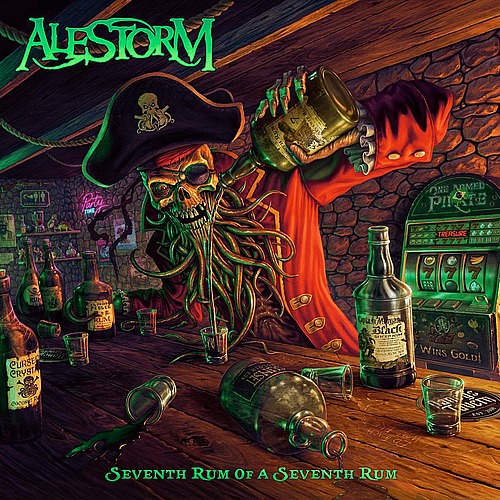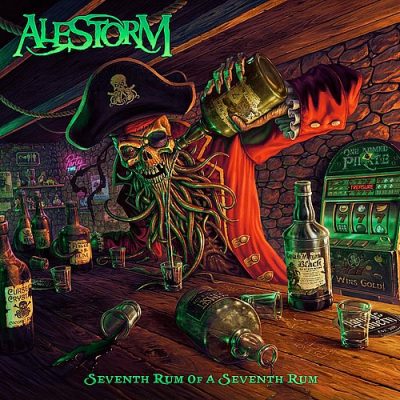 Seventh Rum of a Seventh Rum track listing:
1. Magellan's Expedition
2. The Battle of Cape Fear River
3. Cannonball
4. P.A.R.T.Y.
5. Under Blackened Banners
6. Magyarország
7. Seventh Rum of a Seventh Rum
8. Bite the Hook Hand that Feeds
9. Return to Tortuga
10. Come to Brazil
11. Wooden Leg (Part III)
ALESTORM live:
09.06.22 SE – Sölvesborg / Sweden Rock Festival
10.06.22 CH – Interlaken / Greenfield
11.06.22 NL – Leeuwarden / Into The Grave
12.06.22 UK – Donington / Download Festival
17.06.22 DK – Copenhagen / Copenhell
18.06.22 FR – Clisson / Hellfest
19.06.22 BE – Dessel / Graspop
01.07.22 ES – Barcelona / Barcelona Rock Fest
07.07.22 FI – Tampere / Sauna Open Air
08.07.22 FI – Oulu / Rock in the City
10.07.22 CZ – Vizovicze / Masters of Rock
15.07.22 BG – Mogilovo / Midalidare Rock
25.07.22 FR – Selestat / Rock Your Brain
29.07.22 UA – Ternopil / Faine Misto
05.08.22 ES – Villena / Leyendas Del Rock
06.08.22 FR – Saint Maurice / Sylak Open Air
19.08.22 DE – Dinkelsbuhl / Summer Breeze
20.08.22 DE – Hamburg / Elb Riot
26.08.22 DE – Haddeby / Baltic Open Air
10.09.22 DE – Selb / Festival Medieval
ALESTORM are:
Christopher Bowes – vocals, keytar
Gareth Murdock – bass
Mate Bodor – guitar
Peter Alcorn – drums
Elliot Vernon – keyboard
---
---