We always want to make albums that are better than the last one.
TREAT
Irgendwie ist es nicht zu begreifen, dass TREAT nicht den Erfolg erlangt haben, der ihnen seit den 80/90ern zustehen. Damals schon haben sich die Schweden mit gekonntem Hard Rock /  Melodic Rock-Scheiben einen Namen gemacht und standen neben den Landsmännern von EUROPE um einiges besser da. 1987 war dann aus verschiedenen Umständen Schluss mit Lustig und die Fans mussten bis 2010 auf eine Reunion warten. Diese gelang auch mit "Coup De Grace" hervorragend und TRAET waren wieder im Gespräch. Auch die beiden Folgealben waren ausgezeichnet und dennoch blieben die Schweden rund um Sänger Robert Ernlund unterm Radar.
"Wir wollen immer ein neues Album machen, das besser ist als das letzte" – eine starke Ansage der Band, aber scheinbar glückt ihnen dieses Vorhaben seit der Reunion immer wieder. Auch "The Endgame" überflügelt das schon ausgezeichnete "Tunguska" von 2018 spielerisch. Hier reiht sich ein Ohrwurm an den anderen, sei es "Freudian Slip", "Rabbit Hole" oder "Wake Me When It's Over". In jedem Ton steckt hier wahre Spielfreude drinnen und man hört bei jedem Song den Spaß, den die Musiker bei der Aufnahme hatten. Da wird auch ein eher trauriger Songtext, wie bei "My Parade" zum fröhlichen Mitsinger.
Und wenn man glaubt, besser geht's nicht, setzen TREAT mit "Carolina Reaper" noch ein Schäufelchen drauf.
Ich hoffe ja nicht, dass der Titel "The Endgame" Programm ist und sich TREAT wieder trennen, nein, ich bin hoffnungsvoll eingestellt und gebe auch aus diesem Grund nur 9 Punkte, da ich noch mindestens auf zwei Alben von TREAT hoffe. Ich kann mich, dann wie die Schwedene immer vorhaben und auch durchziehen, noch steigern auf 9,5 und 10.
---
Tracklist "The Endgame":
1. Freudian Slip
2. Rabbit Hole
3. Sinbiosis
4. Home Of The Brave
5. Both Ends Burning
6. My Parade
7. Wake Me When It's Over
8. Jesus From Hollywood
9. Magic
10. Carolina Reaper
11. Dark To Light
12. To The End Of Love
Gesamtspielzeit: 55:17
---
www.facebook.com/treatofficial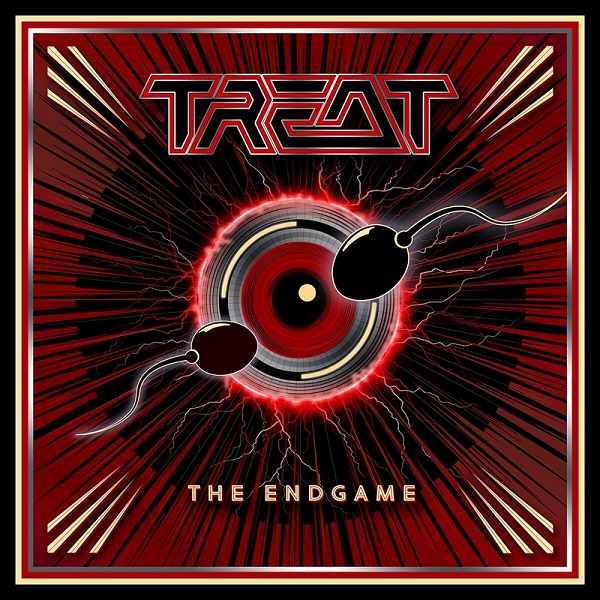 Aktuelles Line Up
Robert Ernlund - Lead Vocals
Anders "Gary" Wikström - Guitars, Backing Vocals
Jamie Borger - Drums, Percussion
Nalle Påhlsson - Bass, Backing vocals
Patrick Appelgren - Keyboards, Backing vocals