Die NWOAHM Sensation DEVILDRIVER hat nicht nur kürzlich eine Box ihrer ersten Alben veröffentlicht, sondern auch große News, denn es gibt einen neuen alten Bassisten sowie einen brandneuen Gitarristen im LineUp. Mit diesem LineUp wollen sie bald auch auf Tour gehen.
---
Die gefeierten Heavy-Groove-Meta und NWOAHM Pioniere  DEVILDRIVER sind bereit, eine neue Ära in der ehrwürdigen Geschichte der Band einzuläuten. Heute freut sich die Gruppe, den ursprünglichen Bassisten Jon Miller nach mehr als einem Jahrzehnt Abwesenheit von der Szene wieder willkommen zu heißen! Zusätzlich zu dieser epischen Wiedervereinigung hat DEVILDRIVER auch den Gitarristen Alex Lee (Holy Grail) als Ersatz für Neal Tiemann ins Lineup aufgenommen.
Die NWOAHM Legenden vonn DEVILDRIVER bereiten sich außerdem darauf vor, im Herbst auf Tour zu gehen, weitere Informationen dazu folgen in Kürze!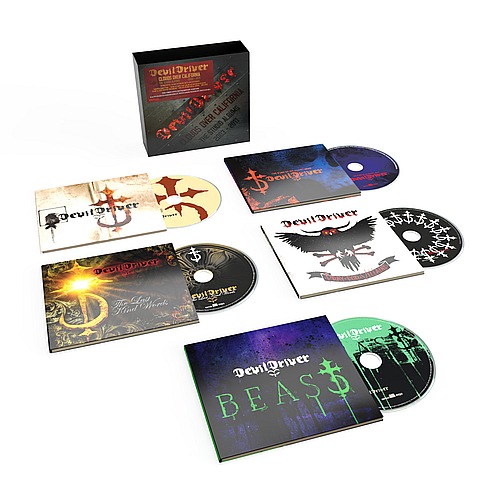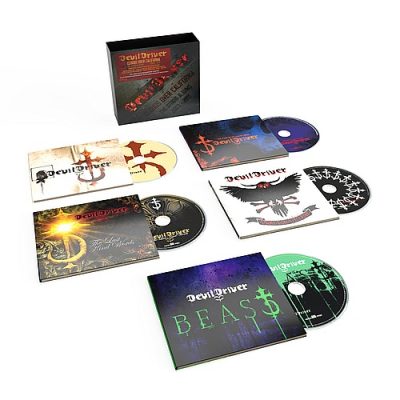 Miller kommentiert seine Rückkehr zur Band wie folgt:
"After spending the past 10 years away from writing music, recording, and touring, I have made the decision to return to DEVILDRIVER to settle some unfinished business with two lifelong friends."
Frontman Dez Fafara über Millers Rückkehr:        
"Jon is a monster on bass and wrote much of our early material. We began talking daily and it just felt right… and having him onstage again will be absolutely pummeling technically and visually! For the fans that have seen the band with Jon in it, please welcome him back. And for those of you who haven't, get ready because he holds it down! Having most of the OG members in the band now after almost 20 years feels good!     
"Get ready because we have a massive tour announcement coming in August! It's been since July 2019 that we've toured, and the break was needed. The fire is there now and we are ready to destroy stages!"
Mike Spreitzer ergänzt:      
"It's been a solid decade since I've shared the stage with Jon Miller, and I'm thrilled to have him back in DEVILDRIVER. Without him, I probably wouldn't be in the band. He was one of the first friends I made when I moved to Santa Barbara in 1999 that eventually lead to me joining DEVILDRIVER. I'm very much looking forward to getting out on the road and having him with us again."
Über den Abgang von Diego 'Ashes' Ibarra:
Dez: "It's always difficult letting guys go in any line of work, but we thank Ashes for his time playing with DEVILDRIVER on tour. I'm sad I had to let him go, but to make way for an original member was the right thing to do. We wish him the best and he's a great guy."        
Mike: "Ashes has been an amazing addition to the DEVILDRIVER family over the years. He's one of the most solid and fun guys I have ever had the honor to call my friend. I'm going to miss our 3-4 hour long morning coffee sessions that we shared since he joined. He will forever be my brother."
Neben der Rückkehr von Miller begrüßt DEVILDRIVER auch Alex Lee, den viele noch aus seiner Zeit in der Band Holy Grail! kennen werden.
Lee erzählt:
"Back in 2016, I had the privilege of touring with DEVILDRIVER with my old band (Holy Grail). We got along great and kept in touch over the years. Fast forward to the present, I am thrilled to announce that I'll be joining the DEVILDRIVER family! Dez made the final call to give me this opportunity that I couldn't pass up. Great guys, heavy music, and I can't wait to see you all on the road!"
Dez über Lee:
"Alex is a bad ass on guitar and one of the most talented guys I've seen in years. He gets along well with the band, he's a great writer, and onstage he brings the energy. We welcome him and look forward to years of good times."
The latest album from DEVILDRIVER, Dealing With Demons I, was released via Napalm Records on October 2, 2020 to massive fan and critical acclaim, debuting at #4 on the US Current Hard Music Albums Chart alongside outlets like Blabbermouth stating, "…Dez Fafara keeps defying the odds and making face-removing metal records that, at their cudgeling best, really hurt. If the second half of this mammoth endeavor matches the first, this will be remembered as a pivotal moment in the DEVILDRIVER story.
Seht das aktuellste Video hier:
DEVILDRIVER is:
Dez Fafara – Vocals
Mike Spreitzer – Guitar
Jon Miller – Bass
Alex Lee – Guitar
Austin D'Amond – Drums
---