Ayreon und Music Theories Recordings/Mascot Label Group werden Ayreons Universal Migrator Pt 1 & 2 (2022 Remixed and Remastered) am 18. November neu auflegen. Um die Veröffentlichung zu feiern, hat Ayreon das Video zu "Into the Black Hole" mit Bruce Dickinson (Iron Maiden) veröffentlicht. 
---
Universal Migrator Pt 1: The Dream Sequencer und Universal Migrator Pt 2: Flight of the Migrator wurden zunächst gleichzeitig im Jahr 2000 veröffentlicht, nachdem zwei Jahre zuvor das majestätisch ausufernde Hit-Album Into the Electric Castle erschienen war. The Dream Sequencer setzt die Handlung von The Final Experiment (1995) fort und beginnt im Jahr 2084, als der letzte Weltkrieg alles Leben auf der Erde ausgelöscht hat. Flight of the Migrator erzählt die Geschichte des letzten lebenden Menschen, des Kolonisten auf dem Mars und seiner Entscheidung, die Dream Sequencer-Maschine zu benutzen, um in die Zeit vor der Entstehung des Universums zurückzureisen.
Das Video gibt es hier:
Die beiden Alben bieten eine Extravaganz an beeindruckenden Musikern und Sängern wie Bruce Dickinson (Iron Maiden), Floor Jansen (Nightwish), Edward Reekers (Kayak), Damian Wilson (Headspace/Threshold), Neal Morse (Spock's Beard/Transatlantic/Flying Colors), Russell Allen (Symphony X), Andi Deris (Helloween), Michael Romeo (Symphony X) und viele mehr.
AYREON mastermind und Multi-instrumentalist Arjen Lucassen erinnert sich, "'Into the Electric Castle' was such a huge worldwide success that when I picked up the guitar to start working on the next AYREON, I was terrified! I realized it would simply be impossible to recreate the magic of that album. So, instead of trying to make an 'Electric Castle part two,' I looked for new and challenging ways to create my next Ayreon album."
"First, I decided to have each vocalist perform one individual song instead of using multiple singers interacting within the same song as I had on previous Ayreon albums. Second, I decided to separate my two extreme styles and make two contrasting albums instead. 'The Universal Migrator Part 1: The Dream Sequencer is a melodic and atmospheric journey through time, and 'Universal Migrator Part 2: Flight of the Migrator is a heavy progressive adventure through space."
"Ayreon fans come in all shapes and sizes, but I believed that overall, there were two distinct groups: the prog fans and the metal fans," he explains. "By releasing these two albums separately, I wanted to give each group a chance to buy the album of the style they loved and, if they wanted, ignore the other. To my (pleasant) surprise, most fans loved both albums!"
"Into the Black Hole is one of my personal favourite songs on the Flight of the Migrator album. Particularly because of the amazing vocal performance of the mighty Bruce Dickinson. It was a true honour and pleasure for me to record one of my favourite singers of all time in my studio. I love that his singing in this track is so different from the (often faster) Iron Maiden material. If you listen well, you can hear that in this remixed version, I used some vocal lines that I didn't use in the original version. Have fun exploring!"

Das Albumcover und das 40-seitige Comicbuch wurden von dem spanischen Künstler und Freund von Arjen, Élan López, gestaltet. "Es ist eine epische Geschichte!" sagt Arjen. "Wir haben drei Monate lang gemeinsam daran gearbeitet und sind stolz auf das Ergebnis. Es ist cool zu sehen, wie die komplexe Geschichte jetzt in wunderschönen Farben dargestellt wird."
Als er sich an die umfangreiche Aufgabe machte, die Alben neu abzumischen und zu mastern, musste Arjen seinen Dachboden durchwühlen und seinen ADAT-Recorder und alle alten 8-Spur-ADAT-Bänder ausgraben. Dann musste er die Audiodaten von allen 70 Bändern (je 40 Minuten) in den Computer importieren. Keine Arbeit für schwache Nerven", sagt er. "Aber als ich erst einmal mit dem Remixen fertig war, genoss ich es, die Aufnahmen und all die Erinnerungen, die bei der Arbeit aufkamen, noch einmal anzuschauen."
Arjen Lucassen setzt seinen Kreuzzug des Remixens und Remasterns seiner besten Werke in absoluter Perfektion fort, und Universal Migrator, Pt. I & 2 (2022 Remixed & Remastered) ist eine atemberaubende Ergänzung zu seinem spektakulären Kanon. Dank der fortschrittlichen Technologie haben die Fans nun die Möglichkeit, die Alben mit den Ohren von Lucassen so zu hören, wie er sie gemeint hat.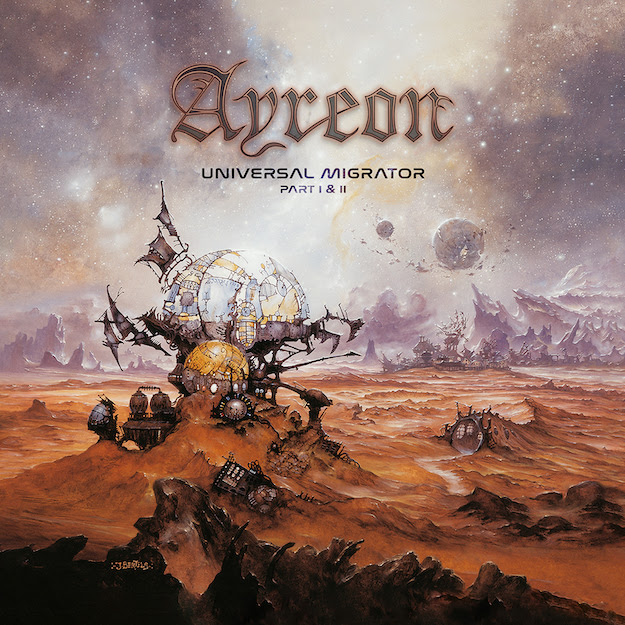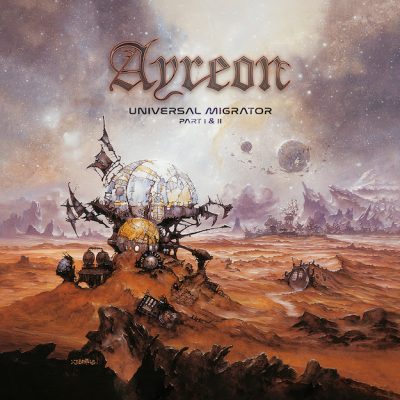 CD1
01 The Dream Sequencer
02 My House On Mars
03 2084
04 One Small Step
05 The Shooting Company Of Captain Frans B. Cocq
06 Dragon On The Sea
07 Temple Of The Cat
08 Burried By The Wind
09 And The Druids Turn To Stone
10 First Man On Earth
11 The Dream Sequencer Reprise
CD2
01 Chaos
02 Dawn Of A Million Souls
03 Journey On The Waves Of Time
04 To The Quasar
05 Into The Black Hole
06 Through The Wormhole
07 Out Of The White Hole
08 To The Solar System
09 The New Migrator
---