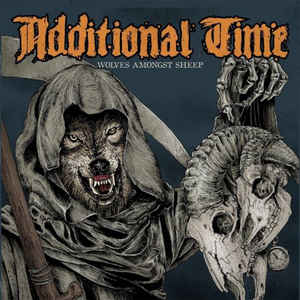 ADDITIONAL TIME
Wolves Amongst Sheep
(Hardcore)
---
Release: 2016
---
Im Oktober biegen ADDITIONAL TIME aus dem deutschen Saarland mit ihrem Erstling "Wolves Amongst Sheep" um die Ecke. Den, sagen wir mal, etwas zu klischeehafte Albumtitel, lässt das großartige Coverartwork dann auch schnell wieder vergessen. Und musikalisch weiß das Quartett durchaus zu überzeugen.
So gibt schon der Opener "The Last Goodbye" die Marschrichtung vor, und lässt auch deren Einflüsse durchscheinen, so ist die Patenschaft für den Output von ADDITIONAL TIME durchaus bei Bands wie TERROR, HATEBREED oder auch den deutschen Urgesteinen RYKER'S nicht zu überhören. Dennoch schafft es die Band, nicht wie ein müder Abklatsch der genannten HC-Größen zu klingen, sondern man bekommt auf "Wolves Amongst Sheep" metallisch bestens geschulten Midtempo Hardcore um die Ohren geknallt.
Ganz genrekonform dürfen auch Gastauftritte nicht fehlen und so bekommen ADDITIONAL TIME auf "Servant To The Hate" Untertützung von Rob Franssen von BORN FROM PAIN und Pelbu von KNUCKLEDUST.
Eine mehr als runde Debütscheibe, die Lust auf mehr macht. Hoffentlich kann man die Band in absehbarer Zeit auch in unseren Gefilden auf deren Livequalitäten überprüfen, das Album verspricht ja schon so Einiges.
---
Tracklist "Albumname":
1. The Last Goodbye
2. That's All Me
3. Wolves Amongst Sheep
4. Redemption
5. Servant To The Hate
6. Dethronement
7. Life's A Bitch
8. Unified
9. Cold Hearted
10. Before Dishonor
Gesamtspielzeit: 30:18
---
https://additionaltime.bandcamp.com/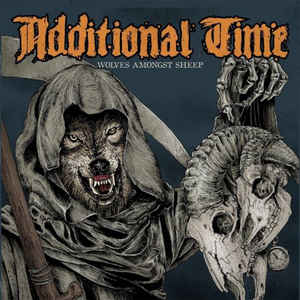 ADDITIONAL TIME – Wolves Amongst Sheep