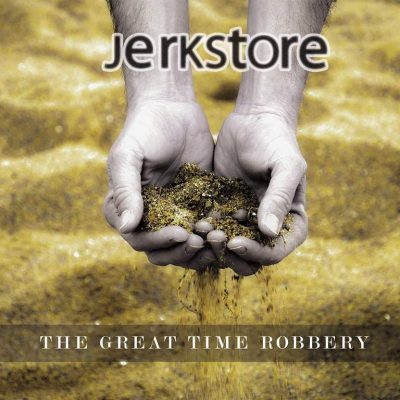 JERKSTORE
The Great Time Robbery
(Groove Metal)
---
Release: 15.11.2019

---
Einst konnte das 2000er Zweitwerk von JERKSTORE bereits einen Earshot-Redakteur nach einigen Anlauf-Schwierigkeiten überzeugen. Seither gab es in unregelmäßigen Abständen sechs Alben, wobei das zuletzt veröffentlichte, und mir hier vorliegendes Exemplar, auch schon wieder eineinhalb Jahre auf dem Buckel hat.
Einzuordnen sind die Dänen gar nicht so einfach, denn irgendwie ist es halt einfach groovender Metal, doch mit vielen Ideen und Ausflügen in anderen Genres. Ein bisschen Stoner da, ein bisschen Thrash dort, aber auch abgefahrene Elemente dürfen mal rein. Aber eines hat das ganze Material auf "The Great Time Robbery" gemein – es geht verdammt gut ins Ohr. Sänger Keld Rud gibt sich aber auch alle Mühe mit seinen hymnischen Refrains, während die Instrumente grooven wie Sau. So wandeln die Dänen auch immer ganz gekonnt am schmalen Grat zwischen Energie und Gefühl.
Komplett überzeugen können JERKSTORE aber dann doch nicht, was zum einen daran liegt, dass der Fronter immer mal wieder an seine gesanglichen Grenzen stößt, aber auch an der Abwechslung und echten Hits mangelt es dem Werk noch ein bisschen. Ansonsten ist "The Great Time Robbery" ein durchaus gelungenes und sehr grooviges Stück Alternative Metal.
---
Tracklist "The Great Time Robbery":
1. Pile Of Excuses
2. Hall Of Mirrors
3. The Uphill Climb
4. Dirty Game
5. Blindness
6. I´ll Never Smile Again
7. The Search Will Never End
8. Mountains Can Be Moved
9. In The Blood
10. Burn My Letters
11. While We Wait For Light
Gesamtspielzeit: 45:35
---
www.facebook.com/jerkstorerocks
JERKSTORE – The Great Time Robbery
LineUp:
Keld Rud
Lars Jørgensen
Stefan V.