Die fünfköpfige Band aus Pisa WIND ROSE, die mit ihrer explosiven viralen Neuinterpretation der Minecraft-Hymne "Diggy Diggy Hole" ihren Durchbruch feierte, meldet sich mit zehn heroischen Songs zurück, um sich auf die Schlacht vorzubereiten.
---
. Der monumentale Opener "Of War and Sorrow" macht den Weg frei für das erbarmungslose "Army of Stone", das dein Blut sofort in Wallung bringt, wenn die von Power- und Folk-Metal geprägte Hook einsetzt – ein Kunststück, das WIND ROSE auf "Warfront" gekonnt unter Beweis stellen! Egal wie groß der Sturm, wie eisig die Winterkälte, WIND ROSE's Gespür für sensationelle Hooks und eingängige Riffs, gekrönt von Francesco Cavalieri's markanter Stimme, katapultiert sie an die Spitze ihrer düsteren und unheimlichen Zeitgenossen, ohne ihre einzigartige Härte und Härte einzubüßen!
Kurz nachdem WIND ROSE ihr Songwriting auf dem mehrphasigen "I Am the Mountain" auf die Spitze getrieben haben, gehen sie schnell einen Schritt zurück, um von Grund auf eine neue Dynamik aufzubauen, bevor sie den Hörer in das große Finale von Warfront, "Tomorrow Has Come", entlassen – unübertroffene Schlachtenkunde, Atmosphäre und erstklassige Produktion vereinen sich zu einem der am meisten erwarteten Power Metal Alben des Jahres! WIND ROSE liefern auf "Warfront" jede Menge Zwergenabenteuer, dramatische Orchesterarrangements und puren Spaß – Wiederspielwert garantiert!
WIND ROSE on Warfront:
"We are really proud to announce the release of Warfront; it's an important milestone for our career and a big game changer in terms of quality of songwriting and music videos.
We want to give you an ultimate fantasy experience, making it to the next level of epicness and bringing you on the battlefield with us."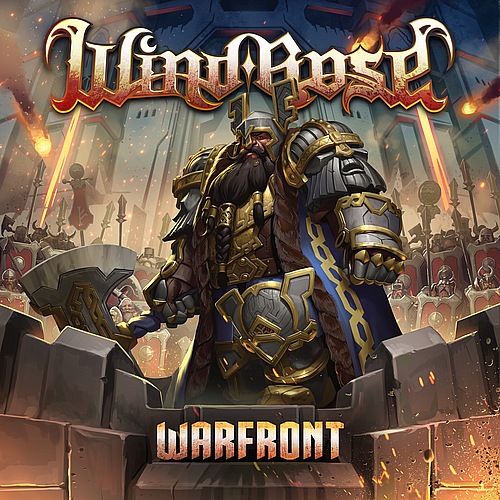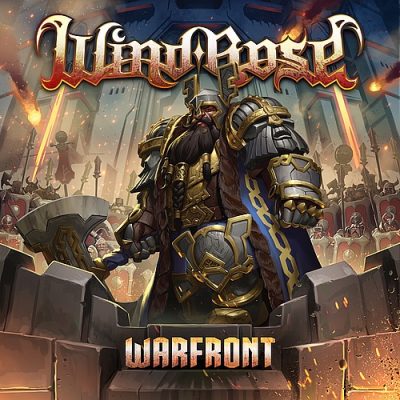 Warfront tracklist:
Of War and Sorrow
Army of Stone
Tales of War
Fellows of the Hammer
Together We Rise
Gates of Ekrund
One Last Day
The Battle of the Five Armies
I Am the Mountain
Tomorrow Has Come
WIND ROSE is:
Francesco Cavalieri – Vocals
Claudio Falconcini – Guitars
Federico Meranda – Keyboards
Cristiano Bertocchi – Bass
Federico Gatti – Drums
---