Die Melodic Death Veteranen ARCH ENEMY veröffentlichen Video zur neuen Single "Sunset Over The Empire" als weiteren Vorgeschmack zum kommenden und lang erwarteten Album "Deceivers". 
---
Seht den Track heute ab 18:00 Uhr hier:
Michael Amott erzählt:
"Behold the 'Sunset Over The Empire', the 4th single from our upcoming 'Deceivers' album! This is a faster song with some manic riffs and a relentless beat that I can envision becoming a 'hit in the pit'! Lyrically, it's sadly one of those that seems to ring more true with each and every passing day nowadays… 'Words turned to war, brother fighting brother, another false truce, as the people die…'. The accompanying video was shot in Poland with the Grupa13 team and doesn't follow the lyrics slavishly but has a great message and vibe in its own right. Oh, and I'm stoked that we're releasing 'Sunset Over The Empire' as a limited edition physical single on 7″ vinyl!"
Sunset Over The Empire 7″ track-listing:
1. Sunset Over The Empire
2. The Judging Eyes
Deceivers ist eine Sammlung von 11 Tracks, die erbarmungslos eingängig und gnadenlos gewalttätig sind und sich mit den Höhepunkten des legendären Katalogs der Band messen können. Mit "Handshake With Hell" machen Arch Enemy klar, dass sie auf Blut aus sind, und jeder Track ist ein Hit, vom stimmungsvollen "Poisoned Arrow" bis zur Titanenhymne "One Last Time". Das Quintett, das energiegeladener denn je klingt, agiert auf höchstem Niveau und liefert einen Strudel diamantharter Riffs, die von cineastischen Melodien, donnerndem Schlagzeugspiel und überragendem Gesang umgeben sind. Arch Enemy haben wieder einmal bewiesen, dass sie nicht zu stoppen sind.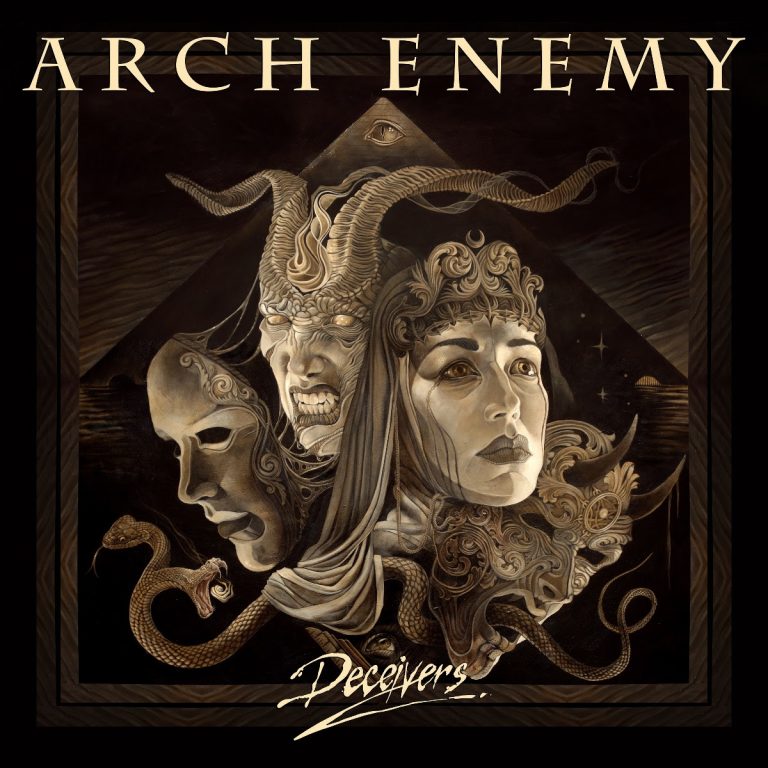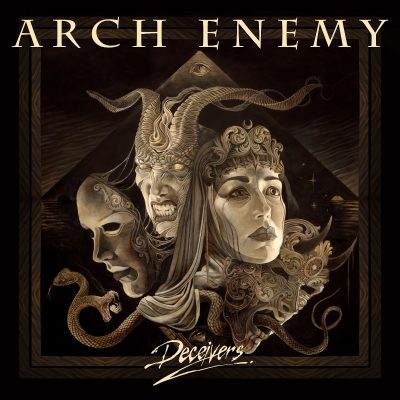 Deceivers track-listing
1. Handshake With Hell
2. Deceiver, Deceiver
3. In The Eye Of The Storm
4. The Watcher
5. Poisoned Arrow
6. Sunset Over The Empire
7. House Of Mirrors
8. Spreading Black Wings
9. Mourning Star
10. One Last Time
11. Exiled From Earth
Arch Enemy 2022 festival dates 
Aug. 6, 2022 – Wacken, DE @ Wacken Open Air
Aug. 9, 2022 – Tel Aviv @ Bside Club
Aug. 12, 2022 – Turku, FI @ Knotfest
Aug. 14, 2022 – Kortrijk, BE @ Alcatraz Festival
Aug. 18, 2022 – Dinkelsbuehl, DE @ Summer Breeze Festival
Aug. 20, 2022 – Sulingen, DE @ Reload Festival
"The European Siege 2022" tour dates
w/ Arch Enemy & Behemoth
+ special guests Carcass, Unto Others
Sept. 27, 2022 – Dublin, IE @ Olympia Theatre
Sept. 29, 2022 – Glasgow, UK @ O2 Academy Glasgow
Sept. 30, 2022 – Manchester, UK @ O2 Apollo
Oct. 1, 2022 – Birmingham, UK @ O2 Academy Birmingham
Oct. 2, 2022 – London, UK @ O2 Academy Brixton
Oct. 4, 2022 – Paris, FR @ Le Zénith
Oct. 5, 2022 – Toulouse, FR @ Le Bikini
Oct. 7, 2022 – Lisbon, PT @ Coliseu de Lisboa
Oct. 8, 2022 – Madrid, ES @ Palacio Vistalegre
Oct. 9, 2022 – Barcelona, ES @ Palau Sant Jordi
Oct. 11, 2022 – Lyon, FR @ Le Radiant
Oct. 12, 2022 – Milano, IT @ Alcatraz
Oct. 14, 2022 – Berlin, DE @ Columbiahalle
Oct. 15, 2022 – Prague, CZ @ Tipsport Arena
Oct. 16, 2022 – Budapest, HU @ Barba Negra
Oct. 18, 2022 – Vienna, AT @ Gasometer
Oct. 19, 2022 – Katowice, PL @ Spodek
Oct. 21, 2022 – Ludwigsburg, DE @ MHP Arena
Oct. 22, 2022 – Den Bosch, NL @ Mainstage Brabanthallen
Oct. 24, 2022 – Saarbruecken, DE @ Saarlandhalle
Oct. 25, 2022 – Zurich, CH @ Samsung Hall
Oct. 26, 2022 – Frankfurt, DE @ Jahrhunderthalle
Oct. 28, 2022 – Munich, DE @ Zenith
Oct. 29, 2022 – Düsseldorf, DE @ Mitsubishi Electric Halle
Oct. 30, 2022 – Hamburg, DE @ edel-optics.de Arena
Oct. 31, 2022 – Gothenburg, SE @ Partille Arena
Nov. 2, 2022 – Helsinki, FI @ Ice Hall
Nov. 4, 2022 – Stockholm, SE @ Annexet
Nov. 5, 2022 – Copenhagen, DK @ Forum
Nov. 6, 2022 – Oslo, NO @ Sentrum Scene
Arch Enemy line-up: 
Alissa White-Gluz – Vocals
Michael Amott – Guitars
Jeff Loomis – Guitars
Sharlee D'Angelo – Bass
Daniel Erlandsson – Drums
---
---