Die finnischen Melodic-Death-Metal-Frontmänner WOLFHEART haben bewiesen, dass sie zu den fesselndsten Metal-Acts nördlicher Herkunft und zu den am schnellsten aufsteigenden Bands in der internationalen Melodic-Death-Metal-Szene gehören. Allein in den letzten zwei Jahren hat die Band mit der Veröffentlichung ihres hochgelobten Full-Length-Albums Wolves of Karelia (2020) und der Skull Soldiers EP (2021) unermüdlich weitergemacht und mit ihren eisigen Geschichten von Kampf und Triumph massives Lob von Fans und Presse gleichermaßen geerntet.
---
Nun freut sich die Band, die bevorstehende Veröffentlichung ihres triumphalen nächsten Albums "King of the North" anzukündigen, das am 16. September 2022 über Napalm Records erscheint! Das neuntrackige Werk macht genau da weiter, wo die letzten beiden Veröffentlichungen aufgehört haben – und hebt jeden Aspekt der für die Band typischen Mischung aus kolossalen Melodien, erderschütterndem Gesang, packender Lyrik und treibenden Rhythmen auf ein neues Niveau.
Für die erste neue Single von "King of the North", "Ancestor", und das dazugehörige Video haben sich WOLFHEART mit keinem geringeren als dem legendären Jesse Leach von Killswitch Engage zusammengetan. "Ancestor" ist die frostigste Hymne des Albums und entfesselt WOLFHEARTs gefeierte Marke von zermalmenden Blast-Biestern und bahnbrechenden Gesangsleistungen. King of the North wird das stetig wachsende Vermächtnis von WOLFHEART um eine neue Stufe erweitern!
WOLFHEART's Tuomas Saukkonen about the new single:
"Finnish mythology is full of nordic gods, tales and beliefs, but there is only one king of the forest. And because of that, a song about this feared and honored beast is an ideal first single. Musically diverse from blast beats to majestic chorus with legendary Jesse Leach, bringing the song onto a whole new level and lyrically diving deep into the album's theme."
Jeder Song auf King of the North ist einer anderen Geschichte der finnischen Mythologie gewidmet – unterstrichen durch WOLFHEARTs grandioses, erdrückendes Songwriting und die Produktion. "The King" zum Beispiel erzählt die Geschichte des Waldgottes mit Hörnern und Pianos, die schwere Gitarrenriffs und -soli begleiten, bevor das unerbittliche "Cold Flame" mit Karl Sanders von der legendären Extrem-Metal-Gruppe Nile das Energieniveau noch einmal anhebt. King of the North ist ein wahres Meisterwerk des melodischen Death Metals, das mit viel Liebe zum Detail und einer komplexen, von der Mythologie geprägten Geschichte geschaffen wurde – und WOLFHEART auf einem noch nie dagewesenen künstlerischen Niveau zeigt!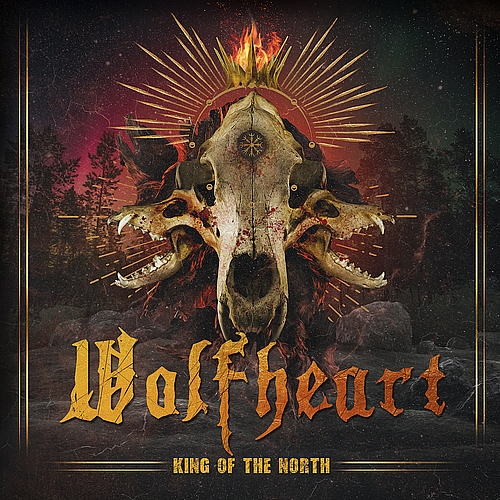 WOLFHEARTs Gitarrist/Sänger Tuomas Saukkonen über King of the North:
"After Wolves of Karelia it made a lot of sense to continue writing thematic albums, but this time I wanted to travel a lot further in history than 2nd world war and went straight to the tales about creation of nordic world, ancient gods of north and the majestic nature. The colorful theme also inspired me to write the musically most diverse WOLFHEART album and also bring the biggest variation of vocals than ever before, putting Lauri and Vageliss in their well-earned spotlight."

King of the North track listing:
1. Skyforger
2. Ancestor feat. Jesse Leach
3. Knell
4. Desolated Land
5. The King
6. Cold Flame feat. Karl Sanders
7. Headstones
8. Fires of the Fallen
9. Eternal Slumber
WOLFHEART are:
Tuomas Saukkonen – guitar, vocals
Joonas Kauppinen – drums
Lauri Silvonen – bass, vocals
Vagelis Karzis – guitar, vocals
---