Der Dark Folk Shamans NYTT LAND veröffentlichen am 18. November 2022 die Gothic Western inspirierte EP "Ritual: Blood of the West"! Die erste Single "Dark Country Ritual" gibt es ab sofort.
---
NYTT LAND begeben sich mit ihrer kommenden EP Ritual: Blood of the West, die am 18. November 2022 digital über Napalm Records veröffentlicht wird, auf eine neue musikalische Reise zu dunklen, westlichen Grenzen. Basierend auf Tracks ihres letzten Albums Ritual, die im Country-Stil überarbeitet wurden, kehren NYTT LAND mit unverfälschten Interpretationen ihrer eigenen Songs zurück, die sie auf eine Gothic-Folk- und Western-inspirierte Weise neu interpretieren
Als ersten Vorgeschmack auf die EP präsentieren NYTT LAND ihre neueste Single "Dark Country. Ritual". Die Band verzaubert die Zeit mit ihren mitreißenden Melodien und haarsträubendem Kehlkopfgesang und entführt den Hörer in eine Geisterwelt voller alter Götter und Helden des alten Westens.
NYTT LAND sagen auf "Dark Country. Ritual":
"Old Ritual went through its rebirth in a new sound, new form and comprehension. And it was in the gothic atmosphere of the old west that he was born again. Ritual continues, prepare for the Ritual!"
Ihren Traditionen und ihrer Verbundenheit mit der Natur folgend, richten NYTT LAND ihre Kräfte auf ein neues Territorium, lassen die rauen Länder des Nordens hinter sich und begeben sich in fünf fesselnden Songs auf eine klangliche Reise. Der Eröffnungssong "Dark Country Ritual", der thematisch den alten Legenden treu bleibt und sich den gemäßigten Klängen des Westens anpasst, zeigt nicht nur NYTT LANDs Hingabe an ihr eigenes Erbe, sondern eröffnet die EP mit einem bezaubernden, atmosphärischen neuen Sound, der wie Rauch aufsteigt und fällt. Bei "The Blues of Ragnarok" und "Song of U-Gra" setzt die Band ihre charakteristischen Gesänge ein, die den Hörer sanft in einen anderen mentalen Zustand versetzen und ruhigere Versionen der Originale vermitteln, ohne deren Tiefe und alte thematische Bedeutung zu verlieren. "Dead Man's Ballad" erzählt seine Geschichte wie ein Kojote, der den Mond anheult, und bietet eine mysteriöse und doch beruhigende Mischung aus Gitarre und Gesang, die die dunkle Folk-Essenz der Band neu interpretiert. "Blood of the West" beschließt die EP mit akustischen Gitarreninstrumenten, die die Geister des Westens beschwören und den Hörer verzaubert zurücklassen, eingebettet in die ruhigen, uralten Klänge des Graslandes.
Folgen Sie NYTT LANDs mystischem Gesang und hypnotisierenden Gitarrenklängen auf eine Reise in ein ganz neues Geisterreich mit Ritual: Blood of the West.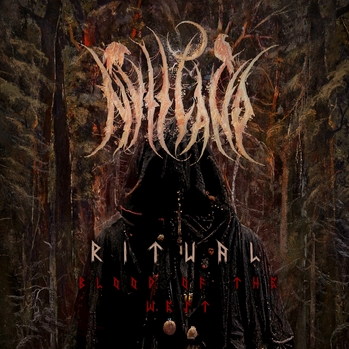 NYTT LAND über die neue EP:
"We've said many times that country and blues music are some of our favorite music genres. This EP is our tribute and memory to those great musicians who stood at the very origins of American country and blues music, those whose music inspires us daily. For us, working on this album has become the most unusual, but at the same time extremely interesting experience. And we really love that we did it!"
Tracklist:
Dark Country. Ritual
The Blues of Ragnarok
Dead Man's Ballad
Song of U-Gra
Blood of the West
Check out NYTT LAND live on tour in South America:
08.10.22 MX – Mexico City / HDX Circus Bar
09.10.22 MX – Guadalajara / Fecha y Hora
13.10.22 CO – Bogotá / Ozzy Company
14.10.22 CO – Medellin / Barnaby Jones Bar
16.10.22 CL – Santiago / Salarbx
And with Faun throughout Europe:
19.10.22 NL – Venlo / Grenswerk
20.10.22 NL – Utrecht / Tivoli Pandora
21.10.22 FR – Paris / Cabernet Sauvage
22.10.22 FR – Rennes / L'Etage
23.10.22 FR – Bordeaux / Krakatoa
25.10.22 SP – Madrid / Shoko
26.10.22 SP – Barcelona / Salamandra
27.10.22 FR – Lyon / Ninkasi Kao
28.10.22 IT – Milano / Live Music Club
02.03.23 DK – Copenhagen / Pumpehuset
03.03.23 SE – Stockholm / Fryshuset Klubben
04.03.23 NO – Oslo / Vulkan Arena
05.03.23 SE – Gothenburg / Pustervik
07.03.23 FI – Helsinki / Tavastia
08.03.23 EE – Tallinn / Tapper
09.03.23 LV – Riga / Melna Piektdiena
10.03.23 PL – Warsaw / Proxima
11.03.23 PL – Krakau / Hol
12.03.23 CZ – Prague / Meet factory
NYTT LAND is:
Natasha "Baba Yaga" Pakhalenko – vocal, throat singing, drums, percussion, flutes, programming
Anatoly "Shaman" Pakhalenko – vocal, throat singing, tagelharpa, mouth-harp, percussion,
horn, programming
---
Band-Links: