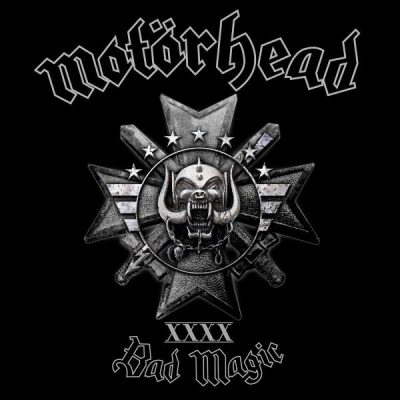 MOTÖRHEAD
Bad Magic
(Hard Rock | Heavy Metal)
---
Label: UDR Music
Format: (LP)

Release: 28.08.2015
---
2015 – 40 Jahre MOTÖRHEAD, 70 Jahre Lemmy, das gehört natürlich ordentlich gefeiert und was wäre dafür mehr geeignet als ein neues Album. "Bad Magic", das 22. Studioalbum der Bandgeschichte ist dann auch ein mehr als würdiges Geschenk, auch wenn man nicht ganz an den Vorgänger "Aftershock" herankommt, was vor allem an den doch etwas fehlenden Überraschungen liegt. Soll jetzt natürlich nicht heißen das "Bad Magic" kein gutes Album ist. Die Band zeigt sich extrem spielfreudig und erstaunlich aggressiv.
Der Großteil der Songs ist sehr flott gehalten ("Victory Or Death", "Thunder And Lightning", "Shoot Out All Of Your Lights" oder "Teach Them How To Bleed") und präsentiert sich auch sehr old-school mäßig. Also alles was man eigentlich erwartet.
Die langsameren Songs wie das sehr melodische "Fire Storm Hotel" und die starke Ballade "Till The End" wissen ebenso zu überzeugen wie das leicht punkige "Electricity". Trotzdem ist alles doch eher vorhersehbar und Überraschungen sehr dünn gestreut. Einzig das an "Orgasmatron" erinnernde "Choking On Your Screams" und "Shoot Out All Of Your Lights" mit seinen Gangshouts können für etwas Überraschung sorgen.
Als krönenden Abschluss gibts mit "Sympathy For The Devil" ein absolut geniales Cover, das die STONES auch in ihrer besten Zeit nicht so gut hinbekommen haben.
Zusammenfassend kann man sagen dass "Bad Magic" ein typisches MOTÖRHEAD-Album geworden ist, dass wohl alle Fans zufriedenstellen wird, auch wenn es so ist wie alle anderen Alben – aber das ist doch das was wir MOTÖRHEAD-Fans eigentlich wollen und somit gibts auch die volle Punktzahl, schon alleine dafür, dass die Band im Alter weder leiser, weiser oder langsamer geworden ist
---
Tracklist "Bad Magic":
1. Victory Or Die
2. Thunder & Lightning
3. Fire Storm Hotel
4. Shoot Out All Of Your Lights
5. The Devil
6. Electricity
7. Evil Eye
8. Teach Them How To Bleed
9. Till The End
10. Tell Me Who To Kill
11. Choking On Your Screams
12. When The Sky Comes Looking For You
13. Sympathy For The Devil
Gesamtspielzeit: 42:57
---
LineUp:
Lemmy Kilmister
Philip Campbell
Mikkey Dee