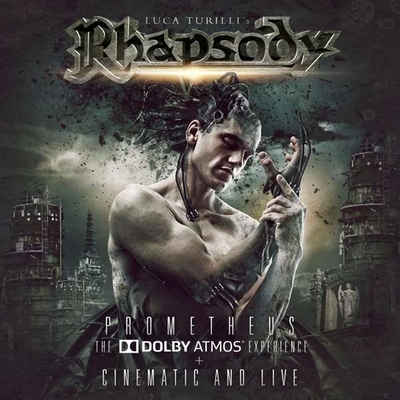 LT RHAPSODY
Prometheus – Cinematic And Live
(Power Metal | Symphonic Metal)

---
Release: 2016
---
Luca Turilli und seine Version von RHAPSODY veröffentlichen mit "Prometheus – Cinematic And Live" einen Re-Release ihres zweiten Werkes aus dem vergangenen Jahr. Da beim Herrn Turilli alles etwas anders läuft, kann man auch hier keinen typischen Re-Release erwarten. Das Teil kommt nämlich in Dolby Athmos daher, wobei ich mich frage, wieviele Menschen heutzutage eine so dicke Heimkinoanlage besitzen, aber zum Glück kann man das Teil auch ohne die entsprechende Ausrüstung genießen.
Somit ist dies das erste Album überhaupt, das mit dieser Technologie aufgenommen wurde, dazu holte man sich natürlich professionelle Hilfe in Form von Chris Heil (DAVID BOWIE, BRYAN ADAMS, SCORPIONS), der das Album neu mischte und auch für eine Grammy-Nominierung 2017 einreichen möchte. Bei den bombastischen und Soundtrack-artigen Songs von RHAPSODY auch keine schlechte Idee, denn im Kinosaal müsste der Sound einem die Haare von der Birne wehen und so manch Metalhead in den Sitz drücken.
Aber auch abseits des glasklaren und fetten Sounds, der sowohl die Metal-Anteile als auch die Orchestrierung wunderbar rüberbringt, ist "Prometheus – Cinematic And Live" eine Anschaffung wert. Denn neben dieser speziellen Audio-BluRay liefert Luca Turilli den Fans eine sage und schreibe 27 Songs umfassende Live-Performance auf Doppel-CD gleich mit.
Zwar konzentrieren sich Luca und seine Jungs hier vorrangig auf die beiden Veröffentlichungen, lassen aber auch so manch Klassiker aus seiner alten RHAPSODY bzw. RHAPSODY OF FIRE Ära nicht nehmen. Songs wie "Knightrider Of Doom", "Land Of Immortals", "Emerald Sword" oder "Dawn Of Victory" haben nach all den Jahren nichts an Charme verloren und werden von Alessandro Conti, der dem Original, Fabio Lione in nichts nachsteht, mit seiner grandiosen Gesangsleistung wunderbar wiedergegeben. Dazu kommt noch eine kleine Rarität, denn mit "Demonheart" und `War Of The Unisverse` haben auch wirklich starke Stücke aus seiner kurzen Solo-Karriere, die 2002 von Olaf Hayer eingesungen wurden, in das Live-Set gefunden.
Wer "Prometheus (Symphonia Ignis Divinus)" bereits im Regal stehen hat, sollte sich zwar gut überlegen, ob man das Teil nochmal braucht, jedoch rechtfertigt das fette Live-Doppelalbum, das auch in Sachen Sound überzeugt, einen Kauf absolut. Über drei Stunden LT RHAPSODY pur!
---
Tracklist "Prometheus":
1. Nova Genesis (Ad Splendorem Angeli Triumphantis)
2. Il Cigno Nero
3. Rosenkreuz (The Rose And The Cross)
4. Anahata
5. Il Tempo Degli Dei
6. One Ring To Rule Them All
7. Notturno
8. Prometheus
9. King Solomon And The 72 Names Of God
10. Yggdrasil
11. Of Michael The Archangel And Lucifers Fall Part II: Codex Nemesis
Tracklist "Prometheus – Cinematic And Live":
CD1:
01. Nova Genesis
02. Il Cigno Nero [Reloaded] 03. Rosenkreuz (The Rose And The Cross)
04. Land Of Immortals
05. Aenigma
06. War Of The Universe
07. Of Michael The Archangel And Lucifer's Fall [Auszug] 08. Excalibur
09. The Ancient Forest Of Elves
10. Son Of Pain
11. Prometheus
12. Drum Solo
13. Knightrider Of Doom
14. Warrior's Prideem Angeli Triumphantis)
2. Il Cigno Nero
3. Rosenkreuz (The Rose And The Cross
4. Anahata
5. Il Tempo Degli Dei
6. One Ring To Rule Them All
7. Notturno
8. Prometheus
9. King Solomon And The 72 Names Of God
10. Yggdrasil
11. Of Michael The Archangel And Lucifers Fall Part II: Codex Nemesis
CD2
01. The Astral Convergence
02. The Pride Of The Tyrant
03. Tormento E Passione
04. Demonheart
05. Bass Solo
06. Warrior Of Ice
07. Of Michael The Archangel And Lucifer's Fall Part II – Of Psyche And Archetypes
08. Dark Fate Of Atlantis
09. Dawn Of Victory
10. Quantum X
11. Ascending To Infinity
12. Emerald Sword
13. Finale
Gesamtspielzeit: 69:20 + 120:11
---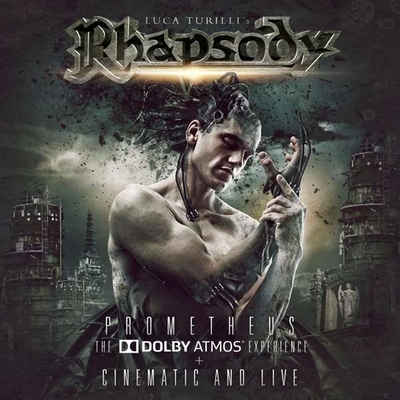 RHAPSODY – Prometheus – Cinematic And Live
LineUp:
Alessandro Conti
Luca Turilli
Patrice Guers
Dominique Leurquin
Alex Landenburg