Nun sind schon wieder zwei Jahre ins Land gegangen, seit dem 30 Jahre Jubiläum der Band aus New York City und das Quartett rund um die Gebrüder Koller bleibt auch auf "Wake The Sleeping Dragon" relevanter denn je.
Schon der Opener braucht keine zwei kompromisslose Minuten um klarzustellen "wo der der Barthel den Most holt" und SICK OF IT ALL unterstreichen, warum sie so einen Legendenstatus in der Hardcore-Szene haben. Aber nur um sich im nächsten Song "That Crazy White Boy Shit" tief vor ihren großen Helden, den BAD BRAINS, zu verneigen, ähnlich wie schon WISDOM IN CHAINS vor ihnen selbst im Song "Chasing The Dragon". In "Bull's Anthem" frönen Lou Koller und Co dann ihren Punk-Wurzeln. #
Dass sie den Breakdown nach wie vor wie im Schlaf beherrschen, bekommt man dann in "To The Wolves" unter Beweis gestellt und im grandiosen "Beef Between Vegans" bekommen dann so manche Szenemitglieder den ironischen Spiegel vorgehalten, bevor "Hardcore Horseshoe" seinem Namen gerecht wird und zutritt wie ein ausschlagendes Pferd.
17 Songs pressen die Herrschaften in knapp 32 Minuten und diese könnten nicht abwechslungsreicher ausfallen. SICK OF IT ALL gehören immer noch nicht zum alten Eisen und beweisen wieder einmal wie relevant und vor allem wie gut die Band immer noch ist. Da kann man nur hoffen, dass das Quartett bald wieder live zu erleben ist, die letzte Show im Juli im Viper Room war nicht nur grandios sondern ist auch ob des großartigen Materials fast schon wieder zu lange her.
Tracklist "Wake The Sleeping Dragon":
1. Inner Vision
2. That Crazy White Boy Shit
3. The Snake (break Free)
4. Bull's Anthem
5. Robert Moses Was A Racist
6. Self Important Shithead
7. To The Wolves
8. Always With Us
9. Wake The Sleeping Dragon
10. 2+2
11. Beef Between Vegans
12. Hardcore Horseshoe
13. Mental Furlough
14. Deep State
15. Bad Hombres
16. Work The System
17. The New Slavery
Gesamtspielzeit: 31:58
---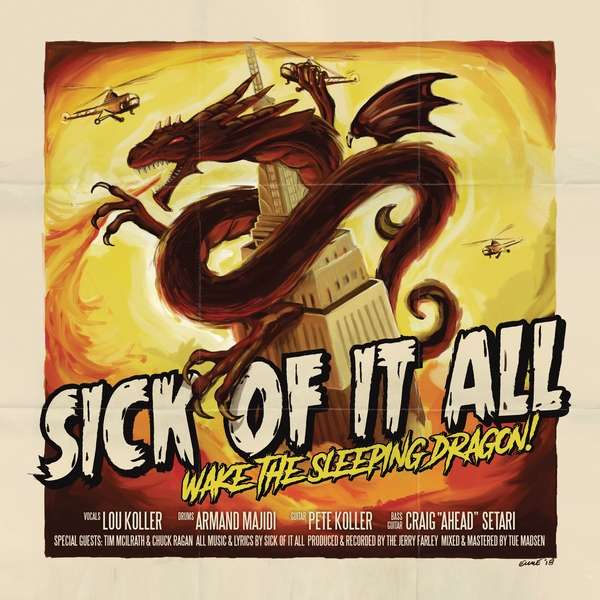 SICK OF IT ALL – Wake The Sleeping Dragon
LineUp
Lou Koller (Vocals)
Pete Koller (Gitarre)
Armand Majidi (Drums)
Craig Setari (Bass)