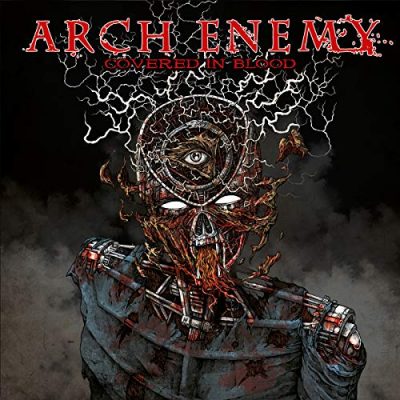 ARCH ENEMY
Covered In Blood
(Melodic Death Metal)
---
Release: 19.01.2019
---
ARCH ENEMY haben sich in den letzten Jahren mühelos vom Abgang von Angela Gossow erholt und sowohl mit ihren Platten "War Eternal" und "Will To Power" als auch live in Clubs und Festivals, sowie mit dem Live-Release "As The Stages Burn!", bewiesen, dass sie nach wie vor zur Elite im Melodic Death Metal Sektor gehören. Zwar würden sich Fans sicher schon über ein weiteres Werk freuen, Alissa, Michael, Jeff, Sharlee und Daniel beehren ihre Fans aber vorerst mal mit einer Compilation all ihrer Cover-Songs, und da haben sich überraschend viele über die letzten 23 Jahre angesammelt und nun auf "Covered In Blood" zusammen gefasst.
Da hier natürlich auch alte Covers, die teils von Angela, aber auch Johan Liiva eingesungen wurden, vertreten sind, kann man bei 24 Tracks natürlich auf eine fette Bandbreite hoffen. Von diversen Tracks von Kollegen aus dem Metal-Sektor wie CARCASS, IRON MAIDEN, DREAM EVIL, MANOWAR, MEGADETH, JUDAS PRIEST über Rock-Helden der Marke EUROPE, KISS und den SCORPIONS bishin zu Pop-Klassikern, die man von TEARS FOR FEARS´ Hit "Shout", den schon andere Bands erfolgreich coverten oder MIKE OLDFIELD´s Granate "Shadow On The Wall", ist alles dabei, was man sich nur vorstellen kann.
Mal mehr, mal weniger erfolgreich, haben ARCH ENEMY die Tracks möglichst in ihren Sound übernommen und eine ganz eigene Interpretation geschaffen. "Shout" groovt nun wie Sau, "Kill With Power" klingt wie auf Speed und "Breaking The Law" klang noch nie so wütend wie hier.
Einige Überraschungen bringen ARCH ENEMY zudem noch mit, denn ihr Faible für Hardcore- und Punk Bands wie ANTI CIMEX, MODERAT LIKVIDATION, DISCHARGE oder SHITLIKERS, war wahrscheinlich den wenigsten bisher bekannt.
Für Fans und Sammler ist "Covered In Blood" eine gelungene Compilation, die funktioniert, Spaß macht und ARCH ENEMY einfach mal wieder von einer anderen Seite zeigt. Zudem überbrückt diese Platte mühelos die Zeit zum nächsten regulären Release.
---
Tracklist "Covered In Blood":
1. Shout (TEARS FOR FEARS)
2. Back To Back (PRETTY MAIDS)
3. Shadow On The Wall (MIKE OLDFIELD)
4. Breaking The Law (JUDAS PRIEST)
5. Nitad (MODERAT LIKVIDATION)
6. When The Innocent Die (ANTI CIMEX)
7. Warsystem (SHITLICKERS)
8. Armed Revolution (SHITLICKERS)
9. Spräckta Snutskallar (SHITLICKERS)
10. The Leader (Of The Fuckin Assholes) (SHITLICKERS)
11. City Baby Attacked By Rats (CHARGED GBH)
12. Warning (DISCHARGE)
13. The Zoo (SCORPIONS)
14. Wings Of Tomorrow (EUROPE)
15. The Oath (KISS)
16. The Book Of Heavy Metal (DREAM EVIL)
17. Walk in Shadows (QUEENSRYCHE)
18. Incarnated Solvent Abuse (CARCASS)
19. Kill With Power (MANOWAR)
20. Symphony Of Destruction (MEGADETH)
21. Aces High (IRON MAIDEN)
22. Scream Of Anger (EUROPE)
23. Starbreaker (JUDAS PRIEST)
24. The Ides Of March (IRON MAIDEN)
Gesamtspielzeit: 70:39

---
ARCH ENEMY – Covered In Blood
LineUp:
Alissa White-Gluz
Michael Amott
Jeff Loomis
Sharlee D'Angelo
Daniel Erlandsson