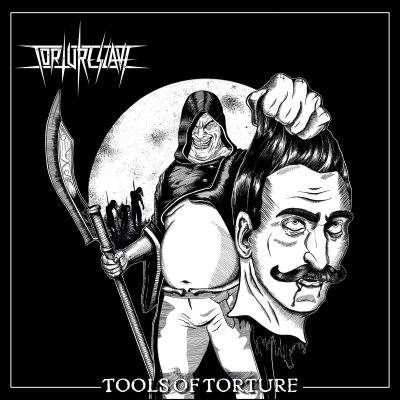 TORTURESLAVE
Tools Of Torture
(Thrash Metal)
---
Release: 12.02.2021
---
Was kann man wohl von einer Truppe namens TORTURESLAVE erwarten? Natürlich eins: aufs Fressbrett! Genauer gesagt gibt es auf dem Debüt der deutschen Herren dynamischen, meist flotten Thrash Metal.
Die Jungs bezeichnen den Stil auf ihrem Debüt "Tools Of Torture" selbst als Thrash-deathigen Lärm aus München. Und damit könnte ich das Review auch schon abschließen und Thrash-Jünger in den (virtuellen) Plattenladen jagen. Aber das machen wir natürlich nicht. Recht schnell fallen einem, ob des technischen Niveaus die Niederländer LEGION OF THE DAMNED als grobe Richtung ein. Und so ballern sich die 2017 gegründeten Münchner gekonnt durch die acht Brecher und Banger, lassen kaum Zeit für Verschnaufpausen und bieten eigentlich das volle Thrash-Programm, ohne großartig aus dem Korsett auszubrechen. Zwischendurch wird mal gegroovt, es gibt wunderbar heiseren Gesang, sägende Riffs und zahlreiche Tempiwechsel, die dem geneigten Mosher eine Menge Spaß bereiten sollten. Wer noch ein paar Klischees braucht, bekommt diese über die Lyrics, die über Krieg, Kapitalismus und gesellschaftlichen Rechtsruck lamentieren. Also alles wo es hingehört.
Wer eine heftige Thrash-Abreibung sucht, der wird von TORTURESLAVE für eine gute halbe Stunde gekonnt bedient.
---
Tracklist "Tools Of Torture":
1. Allholy
2. The Deathmaker
3. I Won´t Bow
4. Wolf Without A Pack
5. Fathers Of The Fourth Reich
6. The Apex Sin
7. In The Mouth Of Madness
8. Quterbound
Gesamtspielzeit: 28:35
---
www.facebook.com/Tortureslaveshred
TORTURESLAVE – Tools Of Torture