FB1964
German Steel
(Heavy Metal)
---
Release: 2021

---
Nur etwas ein Jahr nach "Dreams & Nightmares" meldet sich das Frank Badenhop und sein Studio-Projekt FB1964 zurück. Abwechselnd soll es weiterhin immer ein Eigenkompositions-Album und eine Cover-Scheibe geben. Wobei auch dieses Mal nicht wild drauf los gecovert wird, sondern wie schon beim "Irish Steel" eine bestimmte Ära bzw. Location in Angriff genommen wurde. Dieses Mal traf es mit "German Steel" die Heimat der Teutonen.
Frank macht sich da stets Mühe, sucht sich immer passende Gäste und wählt die Bands und Songs gekonnt aus. Statt bekannte Hits und Hymnen tot zu spielen, versuchte Frank hier entweder weniger bekannte Truppen, die teils nicht mal aus dem Demo-Stadium raus kamen oder bekannte Bands, dafür aber weniger beühmte Tracks auszuwählen.
Egal ob Helden wie HELLOWEEN, ACCEPT, die SCORPIONS oder WARLOCK, die Klassiker sind gekonnt aufgearbeitet, bekommen aber durch Gäste wie Becky Gaber (PSYCHOPHOBIA, YARGOS), Ronnie Romero (RAINBOW, SUNSTORM) oder Bruce Dicknson Double Raphael Mendez (MARIUS DANIELSEN, ICON OF SIN) ihren ganz eigenen Drive. Dazu gesellen sich eben weniger bekannte Truppen namens WAXX, THE RENEGADES oder MANDRAKE, die ebenfalls mit begadeten Sängern wie Johnny Gioeli (AXEL RUDI PELL, HARDLINE), Tim Ripper Owesn (K.K. PRIEST, Ex-JUDAS PRIEST) oder Graham Bonett (MICHAEL SCHENKER FEST) ausgestattet wurden.
Alles in allem ist auch das neueste Werk von FB1964 wieder ein passioniertes und ambitioniertes Scheibchen geworden und eine wunderbare Tour durch die Geschichte des deutschen Heavy Metal. Und einmal mehr tut man hier beim Kauf etwas Gutes, da der gesamte Erlös wieder dem Schutz des Regenwaldes zu Gute kommt.
Guest-Vocals:
Raphael Mendez (ICON OF SIN)
Gaby Weihmayer (RED TO GREY)
Ronnie Romero (RAINBOW)
Britta Helm
Becky Gaber (YARGOS)
Graham Bonnet (MICHAEL SCHENKER FEST)
Liv Jagrell (LIV SIN)
Uschi Hetzberg
Tim Owens (K.K. PRIEST, Ex-JUDAS PRIEST)
Lea Diekmann
Karin Badenhop
Johnny Gioeli (AXEL RUDI PELL)
Victoria Glück
Oleg Rudych (MAGISTARIUM)
Guitar & Solo:
Giulia Marta Vallar
Juan M. Varona
Tomás Petró
Michel Dr. Viossy
Iago Pedroso
Dethy Borchardt
Eric Scheufele
Andreas Kowalzik
Eric Wirsing
Andreas Nunez
Brian Maillard
Michael Angelo Batio
Ivan Mihaljevic
Charlie Parra
Ugur Dariveren
Juliana Wilson
Yiannis Papadopoulos
Julia Kosterova
---
Tracklist "German Steel":
1. Hoch Auf Dem Gelben Wagen
2. Evil (WARLOCK)
3. Neon Nights (ACCEPT)
4. How Many Tears (HELLOWEEN)
5. Frame Of Mind (STRAIGHT SHOOTER)
6. When The Rainbow Meets The Eye (WAXX)
7. Crazy (THE RENEGADES)
8. Ragin' Water (MANDRAKE)
9. Dreamer (LUCIFER)
10. Save Yourself (MSG)
11. Trisomie XXI (SECRECY)
12. We'll Burn The Sky (SCORPIONS)
13. Behind The Mask (HEADBANGERS NIGHTMARE)
14. Chains And Leather (RUNNING WILD)
Gesamtspielzeit: 72:30
---
facebook.com/Bornkamp.Fearless
www.regenwald.org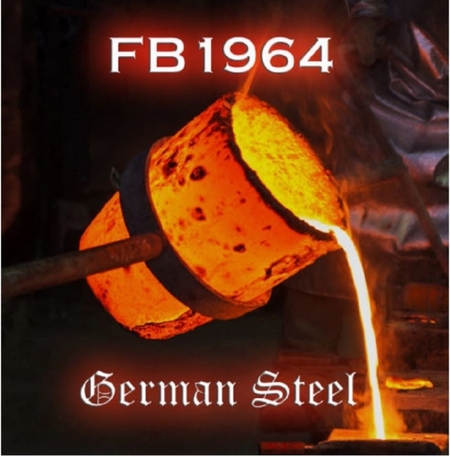 LineUp:
Frank Badenhop (Guitars)
Mirko Gätje (Bass)
Jimmy Waldo (Keyboards)
Dethy Borchardt (Guitar)
Ally Storch (Violin)
Hanno Kerstan (Drums)