Gerade erst haben die Thrash Teutonen von DESTRUCTION ein neues Live-Album auf den Markt geworfen, da überraschen Schmier und Co. mit einer brandneuen Single, aber auch dem Abgang von Mike und der Vorstellung dessen Ersatzes.

---
Mit ihrer neuen CD/Blu-Ray Live Attack, die seit knapp einer Woche auf dem Markt ist, beweisen die deutschen Thrasher DESTRUCTION, dass sie auch nach fast 40 Jahren Bandgeschichte immer noch eine der unerbittlichsten Gruppen im Metal sind und nicht vorhaben, in nächster Zeit vom Gas zu gehen! Heute enthüllen DESTRUCTION ihre neue Single und das dazugehörige Video "State Of Apathy" und geben den Fans damit einen Vorgeschmack auf das, was von dem Quartett, das kürzlich bei Napalm Records unterschrieben hat, noch zu erwarten ist!
Mit dem legendären SCHMIER an den Vocals/Bass veröffentlichen DESTRUCTION mit "State Of Apathy" einen absoluten Thrash-Kracher! Mit knackigen Gitarrenriffs und unverkennbarem Gesang zeigen DESTRUCTION einmal mehr, dass sie sich ihren Platz in der Weltelite des Thrash Metals verdient haben und mit ihrem letzten Album Born To Perish" Platz 26 der deutschen Albumcharts erreichten. Knochenzerschmetternde, dynamische Drums leiten den Song ein und lassen kein Genick ungebrochen. DESTRUCTION liefern Thrash Metal vom Feinsten!
Dies ist auch der erste Auftritt des neuen Gitarristen Martin Furia, der sich DESTRUCTION an den Gitarren anschließt und auch für seine Arbeit als Tontechniker und Produzent für NERVOSA, EVIL INVADERS und viele mehr bekannt ist!
Schmier erzählt:
"The last two years have been testing times for all of us. We are all sad to announce that Mike has left DESTRUCTION. It all was a shock and hit us hard but nevertheless there was never any doubt that we will continue as a band. We are a strong unit and are proud to welcome our new guitarist, Martin Furia, to the band! Our chemistry is great since Martin has been a part of the DESTRUCTION family for many years now. He is the perfect new man on the axe – the first shows have been a fucking blast!
'State Of Apathy' shows the direction DESTRUCTION will go with the new record: more 'back-to-the-roots', more guitars, more in your face! This band is my life and we will always give 100% to keep the spirit alive. I hope you love the new single as much as we do – thanks for all the support! We are wishing Mike the best for his future, for us there is only one way to go THRASH TILL DEATH!"
Mike über seinen Ausstieg:
"It´s hard to leave a band after 39 years. Destruction is my life and something like my baby. But somtimes you have to take desicions that hurt. I´m very sad at the moment, but if something doesn´t feel right anymore, better stop doing it. Thanx to all former bandmates. I´m very proud about the music we have created together. Cheers to all thrashers out there. Without your support and your passion, Destruction would not exist. Peace."
Martin Furia freut sich über seinen neuen Posten:
"The news is finally out and I have mixed emotions. I'm extremely proud to be part of this legendary band since 2016 as sound technician and tour manager, I've been all over the world with the DESTRUCTION family and they have always treated me like another member of the band.
I'm sad to see Mike go because I love him and respect him as a person and guitarist, but when I was asked if I would like to be the new guitarist of DESTRUCTION I didn't hesitate for a second. I feel ready to honor Mike's legacy, to add my own touch and I will give my best to keep the flame of DESTRUCTION burning strong forever, with deep respect and devotion for the past and with full energy and commitment for the future. THRASH TILL DEATH!"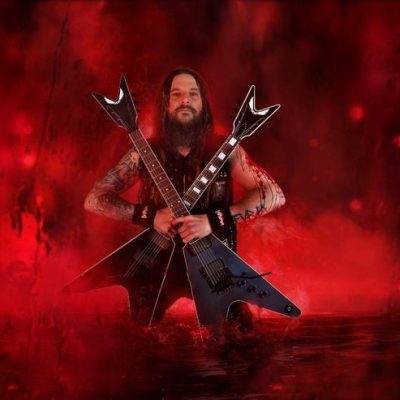 "State Of Apathy" Track List:
01 – "State of Apathy"
02 – "Sign Of Fear" (live)
DESTRUCTION are:
SCHMIER – Bass, Vocals
Martin Furia – Guitars
Randy Black – Drums
Damir Eskić – Guitars
---