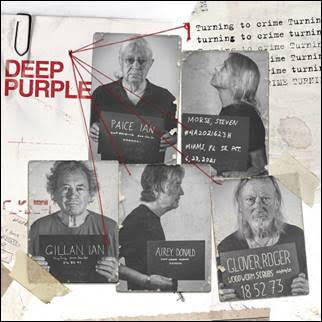 DEEP PURPLE
Turning To Crime
(Hard Rock)
---
Release: 26.11.2021

---
Dass DEEP PURPLE gerne mal eine Coverversion für ihre Alben aufnehmen ist hinlänglich bekannt. Dass aber ihr 22. Studioalbum ein reines Coveralbum ist, das ist neu. Jetzt wird sich der eine oder andere fragen: Braucht es schon wieder ein neues Album der alten Haudegen, und dazu bestehend aus nur abgekupfertem Material? Ich würde sagen "Ja, das braucht es" und DEEP PURPLE sind als Band so weit, dass sie sich von keinem mehr vorschreiben lassen müssen, was sie veröffentlichen sollen, oder ob das jetzt den Geschmack der breiten Masse trifft.
Die Band hat sich darüber hinaus für Songs entschieden, die man nicht gleich nach dem Lesen des Titels, in bereits zigtausend verschiedenen Versionen, sofort im Ohr hat. So kann man sich an tief purpurnen Versionen von "7 And / Is" der New Yorker Band LOVE, "The Battle Of New Orleans" des Country Sängers JOHNNY HORTON oder MITCH RYDERs Song "Jenny Take A Ride!", der den meisten durch die Textzeile "See C. C. Rider" bekannt vorkommen wird, erfreuen. Natürlich ist alles perfekt umgesetzt, aber was ist von dieser Band auch sonst zu erwarten? Hier hört man bei jedem Song die Spielfreude und das Können des Quintetts heraus. Ob Blues, Big Band Sound ("Let The Good Times Roll" ) Dixie ("Dixiechicks") oder eine geniale härtere Version von "White Room" der Band CREAM, hier ist für jedem etwas dabei.
Natürlich ist das nicht jedermanns Geschmack, aber es wird ja auch keiner gezwungen sich die Scheibe zu kaufen, den Fans von DEEP PURPLE wird sie aber mit Sicherheit zusagen. Und da es da ja einige davon gibt, sind die Verkaufszahlen für das 22. Studioalbum so gut wie gesichert.
---
Tracklist "Turning To Crime":
1. 7 And 7 Is
2. Rockin' Pneumonia And The Boogie
Woogie Flu
3. Oh Well
4. Jenny Take A Ride!
5. Watching The River Flow
6. Let The Good Times Roll
7. Dixie Chicken
8. Shapes Of Things
9. The Battle Of New Orleans
10. Lucifer
11. White Room
12. Caught In The Act (Medley)
Gesamtspielzeit: 49:55
---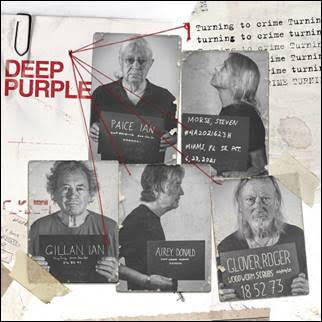 DEEP PURPLE – Turning To Crime