Sainted Sinners takes you on a journey through all facets and musical diversity that a Hard Rock album should have!
ROAR!
Nicht einmal ein Jahr ist vergangen, seit dem SAINTED SINNERS ihr Album "Unlocked & Reloaded" herausgebracht haben und schon stehen sie wieder mit neuem Material in den Startlöchern. Eine Essenz aus allen Facetten des Hardrocks sollte dieses Album bieten, und die Wurzeln von SAINTED SINNERS haben sich da ja gut eingebettet. Die DNA von LED ZEPPELIN, DEEP PURPLE oder VAN HALEN floss schon immer durch Frank Panés (BONFIRE) Adern, und das ist auch auf "Taste It" wieder zu hören. Songs wie " Against The Odd", "The Essence Of Rock'n Roll", "One Today" oder "Good Ol' Company" stehen auf jeden Fall auf der Habenseite des Rock'n Rolls. "Down & Dirty", "Never Back Down" und Coffee, Whiskey & Rock'n Roll" schmecken für mich leider nach abgestandenem Kaffee. Mit den 3 letztgenannten Songs werde ich einfach nicht warm. Auch der CD Bonus Track, bei dem es sich um ein Cover von "Losing My Religion" handelt, will mir auch nach mehreren Durchläufen (und ich habe ihn auch schon live gehört) nicht schmecken. Ich liebe die Stimme von Jack Meille (TYGERS OF PAN TANG), aber für diesen Song passt sie einfach nicht für mich. Da hat sich Michael Stipes Stimme scheinbar für alle Ewigkeit ins Ohr eingefräst. Die abschließende Ballade (mit gehörigem Bumms ab der Mitte) "Heart Of Stone" ist dafür noch einmal purer Genuss.
Alles in allem ist es SAINTED SINNERS erneut gelungen ein gutes Rock'n Roll Album abzuliefern und sollte man die Gelegenheit dazu haben, sie live zu erleben, sollte man diese Gelegenheit unbedingt nutzen. Die Tour zum Album startet am 18. November. Nähere Infos gibt's unter den angeführten Links.
---
Tracklist "Taste It":
1. Against The Odds
2. One Today
3. The Essence Of R'n R
4. Out Of Control
5. Never Back Down
6. Good Ol' Company
7. Down & Dirty
8. On And On (Chained )
9. Losing My Religion (R.E.M.)
10. Coffee, Whiskey & Rock'n Roll
11. Heart Of Stone
Gesamtspielzeit: 46:53
---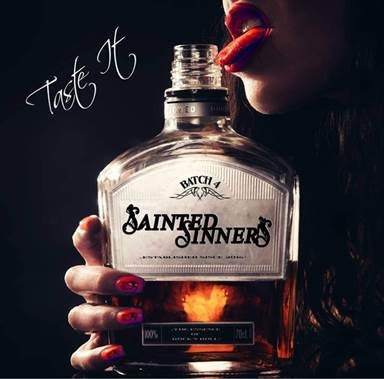 SAINTED SINNERS – Taste It
LineUp:
Jack Meille - Vocals
Frank Pané - Guitars
Ernesto Ghezzi - Keyboards
Rico Bowen - Bass
Berci Hirleman - Drums