Die Thrash-Metal-Veteranen DESTRUCTION feiern ihr 40-jähriges Bestehen, indem sie die Welt mit einer neuen, knallharten Granate in Form ihres neuen Albums Diabolical, das am 8. April 2022 über Napalm Records erscheint, in Flammen setzen!
---
Als eine der legendärsten deutschen Thrash Metal Bands zieren DESTRUCTION die Wall of Fame neben Giganten wie Kreator, Sodom und Tankard. Auf ihrem 15. Studioalbum fahren DESTRUCTION schweres Geschütz voller ehrlichem und kompromisslosem Thrash Metal auf und katapultieren dich geradewegs in den siebten Himmel der metallischen Glückseligkeit und verursachen ein Massaker aus messerscharfem Sound, das kein Fan des Genres verpassen sollte! Der Titeltrack "Diabolical" zeigt keine Gnade und gibt uns einen Vorgeschmack auf das, was DESTRUCTION auf ihrem kommenden Album Diabolical zu bieten haben!
Schmier erzählt:
"I love the title track of the new record, it represents the album, pure old school and in your face Thrash Metal! We wanted a video that shows our trademarks, so the MAD BUTCHER had to be there! It is only his second appearance in a DESTRUCTION video ever but his most remarkable one so far for sure!"
Nach dem stürmischen Start des Openers "Under The Spell" zeigen DESTRUCTION beim Titeltrack "Diabolical" keine Gnade, mit rasenden Drums, blutrünstigen Riffs und höllischen Vocals, die sich tief in die Knochen bohren. "No Faith In Humanity" wütet unbarmherzig mit ununterbrochener Headbanging-Action, während DESTRUCTION auf "Hope Dies Last" weiter die Trommelfelle zertrümmern – mit unschlagbarer Brutalität, unaufhaltsamer Geschwindigkeit, zerstörerischen Strophen und kreischenden Stimmen. "Tormented Soul" hingegen ist mit ordentlichem Heavy Metal und explosiven Drums gespickt. Den krönenden Abschluss der 47-minütigen Parade der Verwüstung bildet der Titeltrack "City Baby Attacked By Rats", im Original von GBH, der mit seiner Kombination aus rauem Hardcore-Punk und brachialem Thrash Metal Peitschenhiebe garantiert.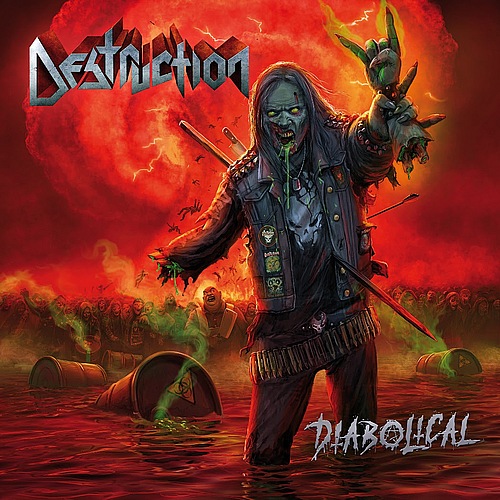 Gitarrist Martin Furia erzählt:
"Diabolical is an album of extremes, everything is more brutal and more technical but at the same time more melodic and to the point. It's a pure and devastating DESTRUCTION album with no gimmicks, full of power and adrenaline. I'm excited for what the future is bringing and can't wait to play the new songs live!"

DESTRUCTION are:
Schmier – Bass, Vocals
Martin Furia – Guitars
Randy Black – Drums
Damir Eskić – Guitars
 
---