Die Bay Area-Metal-Titanen MACHINE HEAD haben die Details zu ihrem kommenden zehnten Album bekannt gegeben, dem gewaltigen und unnachgiebigen "ØF KINGDØM AND CRØWN", das am 26. August 2022 (via Nuclear Blast x Imperium Recordings) erscheint. Das Debüt des ersten Videos aus dem Album, das wilde "Choke On The Ashes Of Your Hate", kann unten angesehen werden.
---
ØF KINGDØM AND CRØWN" ist ein 13-Track-Konzeptalbum, das in einem dezimierten futuristischen Ödland spielt, in dem der Himmel purpurrot gefärbt ist. Der Kern der Geschichte basiert auf 2 Hauptcharakteren:
Charakter #1 Ares: (ausgesprochen Aries), unser Hauptcharakter, der die Liebe seines Lebens (Amethyst) verliert und sich auf einen mörderischen Amoklauf gegen die abscheuliche Sekte begibt, die für ihren Mord verantwortlich ist.
Charakter #2 Eros: (ausgesprochen: Arrows), der Täter, der seine Mutter durch eine Überdosis Drogen verliert und sich daraufhin radikalisiert. Eros rastet aus und wird selbst zum Mörder.
Der Text beschreibt, wie sich ihre Leben miteinander verflechten.
MACHINE HEAD-Gründer Robb Flynn kommentiert:
"Thanks to my 2 teenage boys my family has become obsessed with this awesome Japanese anime series called "Attack On Titan." The album's concept was loosely inspired by the series in the sense that in the storyline, there is no "good" or "bad" guy, both characters believe they're doing the right thing as it applies to their being, but make no mistake, both are committing acts of pure atrocity and evil. The opening track "Slaughter The Martyr" is basically our character #1's origin story."
Das kolossale Konzept wird von einer Liste ebenso kolossaler Verpackungen für verschiedene physische Formate begleitet, darunter 16 verschiedene Vinylformate weltweit, ein Deluxe-Vinyl-Boxset (mit Bonustracks), CDs (sowohl als Old-School-Longbox als auch als Jewelbox), mehrfarbige Kassetten und ein Digipak in limitierter Auflage mit Bonustracks.
CDs, Digipaks, Kassetten und alle digitalen Formate werden ab dem 26. August erhältlich sein, alle Vinylformate ab dem 25. November.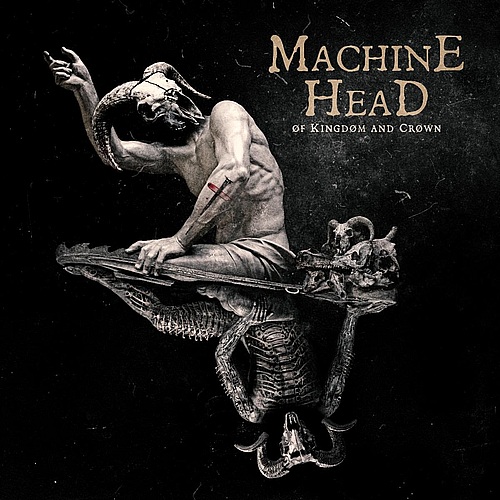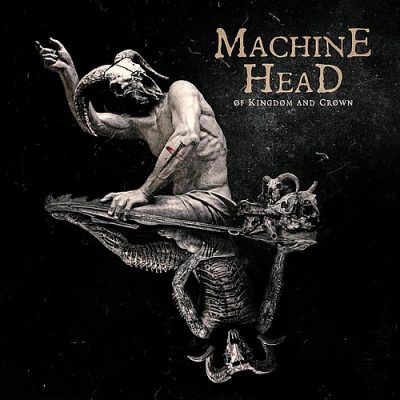 Track Listing:
1. SLAUGHTER THE MARTYR
2. CHØKE ØN THE ASHES ØF YØUR HATE
3. BECØME THE FIRESTØRM
4. ØVERDØSE
5. MY HANDS ARE EMPTY
6. UNHALLØWED
7. ASSIMILATE
8. KILL THY ENEMIES
9. NØ GØDS, NØ MASTERS
10. BLØØDSHØT
11. RØTTEN
12. TERMINUS
13. ARRØWS IN WØRDS FRØM THE SKY
Machine Head & Amon Amarth "Vikings & Lionhearts" Tour Dates:
SEPTEMBER
08th      NOTTINGHAM, Arena
09th      CARDIFF, Arena
10th      LONDON, Wembley Arena
12th      MANCHESTER, Arena
13th      DUBLIN, 3 Arena
16th      ZURICH, Hallenstadion
17th      VIENNA, Stadthalle
18th      KRAKOW, Tauron Arena
20th      TALLINN, Saku Arena
21st       HELSINKI, Ice Hall
23rd      OSLO, Spektrum
24th      STOCKHOLM, Hovet
26th      COPENHAGEN, Forum Black Box
27th      HAMBURG, Barclays Arena
28th      FRANKFURT, Festhalle
30th      OBERHAUSEN, König Pilsener Arena
OCTOBER
01st      BERLIN, Velodrom
02nd     AMSTERDAM, Afas Live
04th      MILANO, Lorenzini District
06th      BARCELONA, Sant Jordi
07th      MADRID, Vistalegre
08th      LA CORUNA, Coliseum
09th      LISBON, Campo Pequeno
12th      PARIS, Zenith
14th      MUNICH, Olympiahalle
15th      LEIPZIG, Arena
16th      PRAGUE, Tipsport Arena
18th      BUDAPEST, Barba Negra
20th      ESCH SUR ALZETTE, Rockhal
21st      BRUSSELS, Forest National
22nd     STUTTGART, Schleyerhalle
---
---