Die Extrem-Metal-Titanen KREATOR sind stolz darauf, mit "Midnight Sun" die dritte Single aus ihrem kommenden fünfzehnten Studioalbum "Hate Über Alles" vorzustellen, das am 10. Juni 2022 erscheinen wird. 
---
Das mit Spannung erwartete Album ist ein starker Anwärter auf das Album des Jahres und gleichzeitig ein globales Statement gegen Hass und die Spaltung der Gesellschaft. Vor der Veröffentlichung im nächsten Monat bieten KREATOR einen weiteren Leckerbissen in Form des ungewöhnlichsten Songs, den "Hate Über Alles" zu bieten hat. "Midnight Sun" schafft es, schweres Gitarrenshredding und fesselnden Groove-Metal mit einem melodramatischen, überlebensgroßen Refrain inklusive weiblicher Backing Vocals zu verbinden und zeigt eindrucksvoll, wie KREATOR das von ihnen mitgeschaffene Genre weiterentwickeln.
Mille Petrozza comments:
"Midnight Sun is something a little new for us, our first time collaborating with a female artist. When I was writing the song, I could hear this Oracle type voice over the pre-chorus and chorus and I immediately reached out to my talented friend, Sofia Portanet who is an emerging artist, here in Germany. Sofia added exactly what I was looking for and gives the song a really dark, ethereal vibe.
The video is the second production we shot with Tom Schlagkamp and his team. The concept was drawn up from the song's lyrics which I envisaged to take place during a ritual sacrifice. Director, Tom came back with an idea loosely based on Ari Aster's 'Midsommar' which has powerful visuals, perfect for a killer metal music video!"


Seit 37 Jahren stehen KREATOR an der Spitze eines Thrash-Metal-Kreuzzuges und haben Generationen von Metalheads und Musikern gleichermaßen inspiriert. Die Kollision traditioneller und zeitgenössischer Werte ist ein Gefühl, das Mille Petrozza der Seele dieses monumentalen neuen Albums eingehaucht hat; er rekrutierte den visionären Produzenten Arthur Rizk (Power Trip, Cavalera Conspiracy, Ghostmane und Turnstile) aus Philadelphia, um mit der Band im legendären Hansa Studio in Berlin zu arbeiten. Das Cover von "Hate Über Alles" wurde von dem renommierten Künstler Eliran Kantor (Testament, Thy Art Is Murder, Helloween) gemalt und ist ein mutiges Statement gegen Hass und Spaltung in der heutigen Gesellschaft.
Mille Petrozza comments:
"Hate Über Alles reflects the time we're living in. Everything is really loud and aggressive. The way we communicate has changed, thanks to social media. It causes a lot of imbalance. The world is in a state of disrepair. Life is not harmonic right now, it's disharmonic… that's where I was going with the title."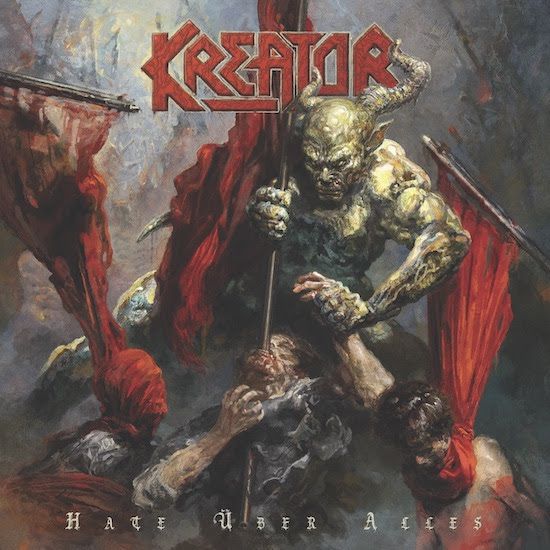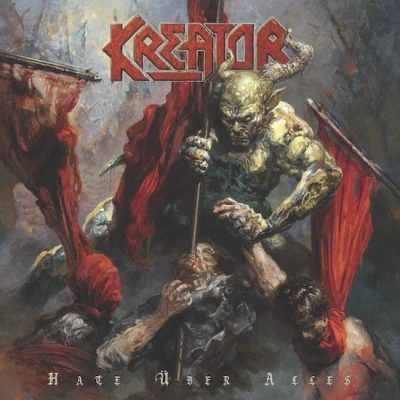 Tracklist:
01. Sergio Corbucci Is Dead
02. Hate Über Alles
03. Killer Of Jesus
04. Crush The Tyrants
05. Strongest Of The Strong
06. Become Immortal
07. Conquer And Destroy
08. Midnight Sun
09. Demonic Future
10. Pride Comes Before The Fall
11. Dying Planet
KREATOR Live 2022
2nd Jun – Czechia – METALFEST OPEN AIR
18th Jun – Finland – METAL CAPITAL FEST
24th Jun – France – HELLFEST
26th Jun – Italy – ROCK THE CASTLE
30th Jun – Portugal – VOA HEAVY ROCK FESTIVAL
1st Jul – Germany – RUHRPOTT RODEO
03rd Jul – Finland – TUSKA
04th Aug – Spain – LEYENDAS DEL ROCK
19th Aug – France – MOTOCULTOR FESTIVAL
20th Aug – Netherlands – DYNAMO METAL FEST
23rd Sep – Mexico – MEXICO METAL FEST
---
www.facebook.com/KreatorOfficial
---