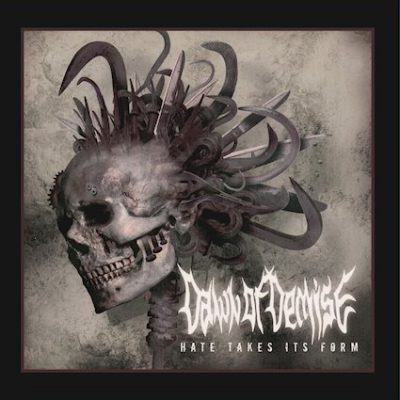 DAWN OF DEMISE
Hate Takes Its Form
(Death Metal)
---
Release: 10.06.2022
---
We were a very new band, confused, not knowing exactly what we wanted to sound like…
Bjørn Jensen
Fast 20 Jahre lang halten sich DAWN OF DEMISE aus Dänemark hartnäckig im Geschäft, konnten aber noch nicht wirklich den großen Durchbruch oder zumindest den Bekanntheitsgrad von den Landskollegen ILLDISPOSED oder auch DYING FETUS und SUFFOCATION erreichen. Musikalisch kann man das den Herren aber nicht wirklich vorwerfen, denn schon das Debüt "Hate Takes Its Form" zeigte, dass die Herren durchaus das Zeug dazu haben. Fans warten zwar schon wieder drei Jahre auf das dann sechste Studio-Album. Zur Überbrückung gibt es jetzt aber das genannte Debüt nochmal neu aufgelegt.
Schon das LineUp gab damals einiges her, so spielten die Mitglieder davor oder nebenbei teilweise in Bands wie TEMPLE OF SCORN, SCAMP, INFERNAL TORMENT, THE BURNING oder eben ILLDISPOSED. Geboten wurde ein gut produziertes, brutales Groove-Monster mit sehr tiefen, teils grindigen Growls von Scott Jensen. Dazu gehören natürlich drückende Beats, bedrohlich tiefe Riffs und eine dichte Atmosphäre. Außerdem sind sich die Dänen seit jeher nicht zu schade auch mal ein paar Instrumentalparts für sich sprechen zu lassen. Da wird aber auch für Abwechslung gesorgt und somit kommen auch OBITUARY, SIX FEET UNDER und MORBID ANGEL sowohl gesanglich als auch musikalisch zwischendurch auch noch ins Spiel. Abgerundet wird das mit teils sehr straighten, teils aber auch verspielten Soli und dezenten Melodien. So kann man das Debüt, das nach wie vor als deren stärkster Output gewertet wird, als straighten Death Metal Brocken, aber auch gleichzeitig als mutiges, leicht experimentelles Werk bezeichnen.
Somit dürfen Fans der Band, die das Debüt bisher noch nicht in Händen halten durften, ebenso wie Freunde der Referenz-Deather auf jeden Fall zugreifen, denn DAWN OF DEMISE stehen doch recht zu Unrecht nach wie vor in zweiter Reihe.
---
Tracklist "Hate Takes Its Form":
1. Hate Takes Its Form
2. …And Blood Will Flow
3. Degrading The Worthless
4. Within The Flesh
5. Intent To Kill
6. Impurity
7. Beyond Murder
8. Malice – Kill To Conform
9. Domestic Slaughter
10. Regain Our Masochist
Gesamtspielzeit: 47:38
---
www.facebook.com/officialdawnofdemise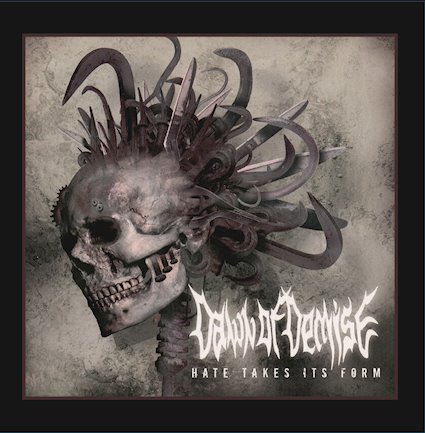 DAWN OF DEMISE – Hate Takes Its Form