Die Metal-Titanen MACHINE HEAD aus der Bay Area haben heute den neuen Track "UNHALLØWED" veröffentlicht, zusammen mit einem dazugehörigen Video, das live bei der Electric Happy Hour-Serie der Band aufgenommen wurde. Der neue Track stammt aus dem zehnten Studioalbum der Band, "ØF KINGDØM AND CRØWN", das am 26. August 2022 über Nuclear Blast x Imperium Recordings erscheinen wird.
---
MACHINE HEAD Gründer Robb Flynn spricht über den neuesten Track des kommenden Albums:
"Drowning in the deepest depression of his life, Eros is at a breaking point. Collecting heartaches, loss, and near psychotic isolation, "Unhallowed" is the beginning of a powerful shift of our story. An introspective narrative starts the song lyrically, which is a collaborative effort written by myself, Guitarist Wacław "Vogg" Kiełtyka, and Bassist/Backing Vocalist Jared MacEachern and encapsulates the collective strength of this writing team.
"Anchored by an absolutely monstrous groove, the vocals melodically mirror the state of mind of Eros as he reels from the loss of his mother to a drug overdose and begins a slow downward spiral into madness. However, the culmination of the track infuses some much-needed light, but will it be enough?"
ØF KINGDØM AND CRØWN" ist ein 13-Track-Konzeptalbum, das in einem dezimierten futuristischen Ödland spielt, in dem der Himmel karmesinrot gefärbt ist. Der Kern der Geschichte basiert auf 2 Hauptcharakteren:
Charakter #1 Ares: (ausgesprochen Aries), unser Hauptcharakter, der die Liebe seines Lebens (Amethyst) verliert und sich auf einen mörderischen Amoklauf gegen die abscheuliche Sekte begibt, die für ihren Mord verantwortlich ist.
Charakter #2 Eros: (sprich: Arrows), der Täter, der seine Mutter durch eine Überdosis Drogen verliert und sich daraufhin radikalisiert. Eros rastet aus und wird selbst zum Mörder.
In den Texten wird beschrieben, wie sich ihre Leben miteinander verflechten.
Das kolossale Konzept wird von einer Liste ebenso kolossaler Verpackungen für verschiedene physische Formate begleitet, darunter 16 verschiedene Vinyl-Formate weltweit, ein Deluxe-Vinyl-Box-Set (mit Bonustracks), CDs (sowohl in der Old-School-Longbox als auch in der Jewel-Box), mehrfarbige Kassetten und ein Digipak in limitierter Auflage mit Bonustracks.
CDs, Digipak, Kassetten und alle digitalen Formate werden ab dem 26. August erhältlich sein, alle Vinylformate ab dem 25. November.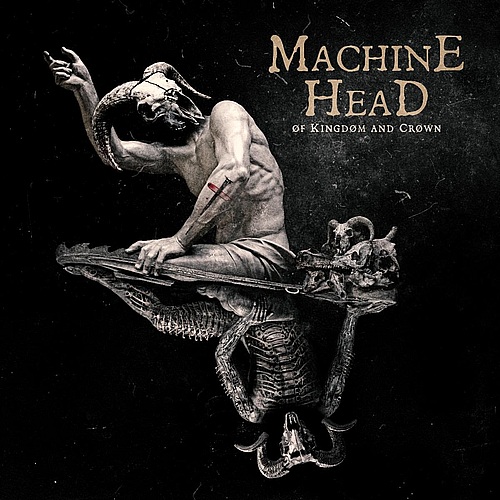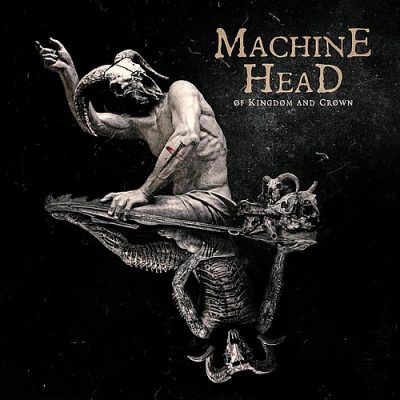 ØF KINGDØM AND CRØWN
MACHINE HEAD
Track Listing:
1. SLAUGHTER THE MARTYR
2. CHØKE ØN THE ASHES ØF YØUR HATE
3. BECØME THE FIRESTØRM
4. ØVERDØSE
5. MY HANDS ARE EMPTY
6. UNHALLØWED
7. ASSIMILATE
8. KILL THY ENEMIES
9. NØ GØDS, NØ MASTERS
10. BLØØDSHØT
11. RØTTEN
12. TERMINUS
13. ARRØWS IN WØRDS FRØM THE SKY
Machine Head & Amon Amarth "Vikings & Lionhearts" Tour Dates:
SEPTEMBER
08th      NOTTINGHAM, Arena
09th      CARDIFF, Arena
10th      LONDON, Wembley Arena
12th      MANCHESTER, Arena
13th      DUBLIN, 3 Arena
16th      ZURICH, Hallenstadion
17th      VIENNA, Stadthalle
18th      KRAKOW, Tauron Arena
20th      TALLINN, Saku Arena
21st       HELSINKI, Ice Hall
23rd      OSLO, Spektrum
24th      STOCKHOLM, Hovet
26th      COPENHAGEN, Forum Black Box
27th      HAMBURG, Barclays Arena
28th      FRANKFURT, Festhalle
30th      OBERHAUSEN, König Pilsener Arena
OCTOBER
01st      BERLIN, Velodrom
02nd     AMSTERDAM, Afas Live
04th      MILANO, Lorenzini District
06th      BARCELONA, Sant Jordi
07th      MADRID, Vistalegre
08th      LA CORUNA, Coliseum
09th      LISBON, Campo Pequeno
12th      PARIS, Zenith
14th      MUNICH, Olympiahalle
15th      LEIPZIG, Arena
16th      PRAGUE, Tipsport Arena
18th      BUDAPEST, Barba Negra
20th      ESCH SUR ALZETTE, Rockhal
21st      BRUSSELS, Forest National
22nd     STUTTGART, Schleyerhalle
---
www.machinehead1.com
www.facebook.com/MachineHead
---