Das australische Musikgenie und Multi-Instrumentalist Mike Mills präsentiert sein neues Konzept-Album "I Have Little To No Memory of These Memories". (Nur ein Track in Albumlänge).  Ein durchgeknalltes Space/Alien Abenteuer direkt aus BRAILIEN's Mega Storage.

---
Mike Mills says of the record:
"The 45 second song is quite prevalent now, instagram/tiktok social media microcontent and all that. I have a bug in my brain that purposely wanders toward something which is the opposite of what's popular so I thought "Hey how about doing a 47 MINUTE long song?"
The new Toehider album is one song that lasts 47 minutes and 47 seconds. It look me about 3 years to write and record it. It really came out great and it sounds like a sonic journey through the last 50 or so years of prog rock and metal. Thematically it's a comment on remembering. Where are our memories now? Do we even need to remember that much? Or are we trying to remember too much? Are we better off forgetting? Are these memories even mine? How? The whole thing tells the story of a man, a woman, a huge bird, a dumb alien, and 2 boats that get modded to facilitate an outer-space confrontation. There's two different endings. One on the CD, the alternate ending on vinyl. There's also an amazing animated video for a portion of the song based on Salty's characters, animated by Eleanor Evans & Giovanni Aguilar. Outstanding!"

 TOEHIDER ist ein Gemeinschaftsprojekt des Sängers/Multiinstrumentalisten Mike Mills (auch Gaststar bei AYREON) und des Grafikdesigners Andrew Saltmarsh. "I Have A Little Memory Of This Memories" ist das fünfte Full-Length-Studioalbum und die 22. Veröffentlichung insgesamt (nachdem eine Serie von 12 EPs in 12 Monaten das Projekt vor einem Jahrzehnt ins Rollen brachte). Seit 2018 betreiben TOEHIDER ein erfolgreiches Patreon-Abonnement, das Hunderte von Kompositionen und Illustrationen für die Fans bereitstellt. Ihr Patreon wurde kürzlich als eines der 10 erfolgreichsten Musikabonnements in Australien gelistet.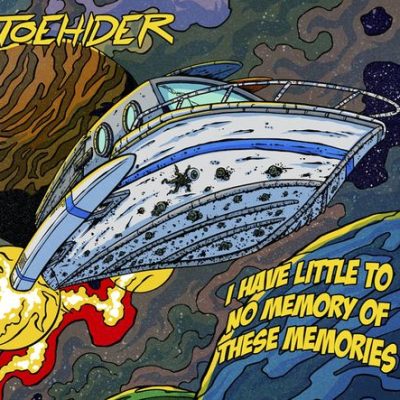 Mehr über TOEHIDER:
Nach der Veröffentlichung ihrer Debüt-EP im Jahr 2008 erregten Toehider die Aufmerksamkeit der Welt, indem sie innerhalb von 12 Monaten beeindruckende 12 EPs herausbrachten, die alles abdeckten: von Up-Beat-Pop und schwerem Progressive Metal bis hin zu Hörbüchern für Kinder und entspanntem Folk, jede mit einzigartigem Artwork und einem 2-seitigen Comic des Illustrators Andrew Saltmarsh aus Brisbane. Nach einer kurzen Studiopause gründete Mike Mills eine Live-Band (mit dem ehemaligen Soilwork-Schlagzeuger Ricky Evensand, der Bassistin Amy Campbell und dem Gitarristen Lachlan Barclay), um die Toehider-Show in den Jahren 2009-10 zum ersten Mal auf die Straße zu bringen und an der australischen Ostküste Shows mit Bands wie sleepmakeswaves und Arcane zu spielen. 2011 brachte die Band ihr erstes komplettes Album To Hide Her auf den Markt, das einige ihrer bisher eingängigsten Songs enthält, und tourte mit den australischen Prog-Schwergewichten Unitopia auf ihrer ersten nationalen Tournee. Der 2008 erschienene Song I Must Say Yes" wurde im Rahmen der Sendung Unearthed" bei Triple J Breakfast with Tom & Alex vorgestellt, und Triple J Mornings-Moderator Zan Rowe bezeichnete ihn später als den besten Montagssong aller Zeiten". Nach einem relativ ruhigen Jahr 2012, in dem der Schlagzeuger der Live-Band, Ricky Evensand, nach Schweden umzog, tauchten Toehider 2013 mit Mike Solo am Schlagzeug wieder auf und tourten mit The Protomen (USA) und Devin Townsend (CAN), sowie mit TWELVE FOOT NINJA & CALIGULA'S HORSE.
---