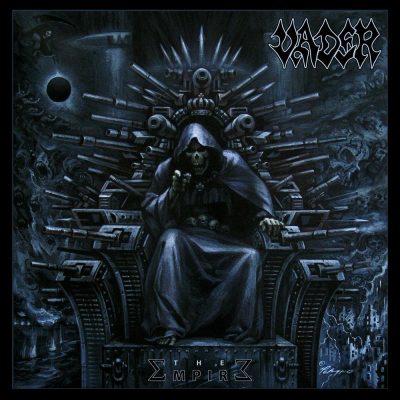 VADER
The Empire
(Death Metal)
---
Release: 04.11.2016
---
Silence is like death
The messenger of hell
Coming soon
Distant voices and whispers
Command to march ahead
And die
Iron Reign
Mehr als zwei Jahre hat es gedauert, doch nun schleudert die polnische Death Metal Band VADER ihr neues Album "The Empire" auf den Markt. Vor über dreißig Jahren hat Sänger und Gitarrist Piotr "Peter" Wiwczarek die Band ins Leben gerufen und auch ihr dreizehntes Studioalbum verspricht grandiosen Old School Death Metal.
Der erste Track "Angels Of Steel" legt gleich mit vollem Tempo los und Peter schreit einem die Lyrics entgegen, sodass man sich erst einmal sammeln muss, um zu begreifen was da gerade passiert. Die Songs sind insgesamt eher kurz und knackig und lassen einen an NAPALM DEATH denken, obwohl die Lieder definitiv um eine Spur dunkler und brutaler sind. Hin und wieder gibt es auch ein paar langsamere Passagen, aber ansonsten prescht das Album dahin bis die Felle der Doublebass reißen oder jemand eine Sehnenscheidenentzündung von den schnellen Riffings bekommt. Musiktechnisch sind vor allem die Songs "Army-Geddon" und "Feel My Pain" zu empfehlen.
Auch das Artwork des neuen Albums muss erwähnt werden, da es sich um eine gelungene Neuinterpretation des Eisernen Throns von Game of Thrones handelt. In der heutigen Zeit würde der Thron eines Warlords wahrscheinlich eher wie jener von VADER aussehen, inklusive Multifunktionstablett zur Steuerung der Waffen. VADER hat zwar auch schon einmal innovativere Werke herausgebracht, aber wer auf guten, soliden Death Metal steht, sollte sich die neue LP zulegen.
---
Tracklist "The Empire":
1. Angels Of Steel
2. Tempest
3. Prayer To The God Of War
4. Iron Reign
5. No Gravity
6. Genocidius
7. The Army-geddon
8. Feel My Pain
9. Parabellum
10. Send Me Back To Hell
Gesamtspielzeit: 33:11

---
LineUp:
Piotr "Peter" Wiwczarek
Marek "Spider" Pająk
Hal
James Stewart