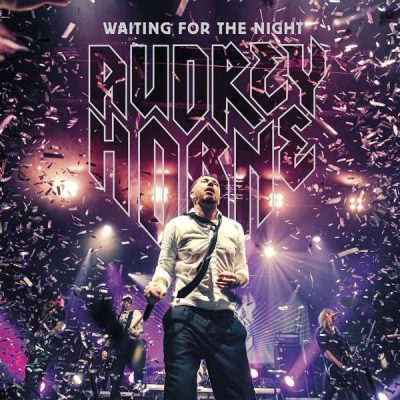 AUDREY HORNE
Waiting For The Night
(Classic Rock)
---
Release: 2020
---
I got tonight
You got tonight
We got tonight
Everybody's waiting for the night
Waiting For The Night
Längere Zeit war es ruhig im nordischen Powerhouse AUDREY HORNE. Beim letzten Plausch am Merch-Tisch im Wiener Flex, wo die Jungs fulminanter Support der BACKYARD BABIES waren, wurde schon ein Live Album angeteasert. Dieses wird nun mit "Waiting For The Night" in die (analogen und digitalen) Regale gewuchtet. Aufgezeichnet im heimischen Fjord in Bergen haben Toschie (Vocals), Ice Dale (Gitarre), Thomas (Gitarre), Kjetil (Drums) und Espen (Bass) zwei Heimspiele auf Platte gebannt.
Schon bei der ersten Nummer "This Is War" werden die ersten Oh Oh Oh-Chöre im Publikum angestimmt, danach wird auch gleich die "Audrevolution" eingeläutet.
Es folgen Hit um Hit, Gitarrensolo jagt Gitarrensolo und man spürt förmlich, wie Ice Dale und Thomas Tofthagen ihre Äxte in die Höhe recken ("Blackout" und "Pretty Little Sunshine").
Kleiner Wehrmutstropfen, der das Live-Erlebnis als Nicht-Norweger etwas trübt, ist, dass die Ansagen von Toschie (nonanet) auf Norwegisch daherkommen und man nur erahnen kann, was er zu vermelden hat. Gänsehaut gibt's beim Dreischlag aus "Weightless" (von No Hay Banda), "Theshold" (von Le Fol) und "Blaze of Ashes" (von Audrey Horne) aus ihrer Zeit vor der Umorientierung gen Classic Rock.
AUDREY HORNE liefern eine beachtliche Werksschau ab, die ihr komplettes Schaffen abdeckt, aber leider die Gier nach einem neuen Longplayer nur bedingt befriedigt. Live ist nun mal live, schwer dieses Feeling einzufangen, vor allem bei einer so erstklassigen Live-Truppe wie AUDREY HORNE. Zusätzlich gibt's in der "Kaufversion" eine BluRay mit Live Clips von diversen Auftritten, sowie Bonusmaterial.
---
Tracklist "Waiting For The Night":
1. This Is War
2. Audrevolution
3. Youngblood
4. Blackout
5. Pretty Little Sunshine
6. Out Of The City
7. Sail Away
8. Midnight Man
9. Light Your Way
10. California
11. Weightless
12. Threshold
13. Blaze Of Ashes
14. Waiting For The Night
15. Redemption Blues
16. Straight Into Your Grave
Gesamtspielzeit: 81:20
---
www.audreyhornemusic.com
facebook.com/AudreyHorneOfficial
AUDREY HORNE – Waiting For The Night
LineUp:
Torkjell Rød
Arve Isdal
homas Tofthagen
Espen Lien
Kjetil Greve