Es hat fast sechs Jahre gedauert seit dem letzten Album Nihilism, aber jetzt sind TEETHGRINDER zurück, wütender und desillusionierter denn je, der Zustand der Welt im Allgemeinen und zwei Jahre Pandemie taten ihr Übriges. TEETHGRINDER enthüllen erste Single Worthless aus dem kommenden Album "Dystopia".
---
Wie auf den beiden Vorgängern Misanthropy (2015) und Nihilism (2016) – beide ebenfalls auf LIFEFORCE RECORDS – setzen TEETHGRINDER auf eine Soundbasis zwischen Grindcore und Death Metal. Elemente aus Crust, Hardcore und Black Metal runden das stilistische Spektrum der Niederländer ab.
TEETHGRINDER aus den Niederlanden haben schon immer ungläubig auf das geschaut, was die Menschheit sich selbst und dem Planeten, auf dem sie lebt, antut. Ekel, Abscheu, Leid und Verzweiflung – es sind Emotionen wie diese, die als kreative Triebfeder für das Songwriting der Band aus Zwolle dienen.
Das Quartett packt seine ganze Wut und Aggression in Songs, die genau das widerspiegeln. Das treffend betitelte dritte Album "Dystopia" entwickelt sich unbequem, radikal und musikalisch zerstörerisch. Und zwar auf eine andere, aber agile, stets bedrohliche Art und Weise. Angesichts von Songtiteln wie ,Birthed Into Suffering', ,Disgrace', ,Blood Ritual', ,Our Failing Species' oder ,Worthless' kann es gar nicht anders sein. Am Ende ihres dritten Albums zieht die seit 2013 aktive Gruppe um ehemalige Mitglieder von DrDoom und Greyline mit ,As I Believe The World To Be, So It Is' und dem Titeltrack ,Dystopia' ein resignatives Fazit.
Das Artwork von Dystopia stammt erneut aus den goldenen Händen von Marald van Haasteren (Converge, Done, Kvelertak).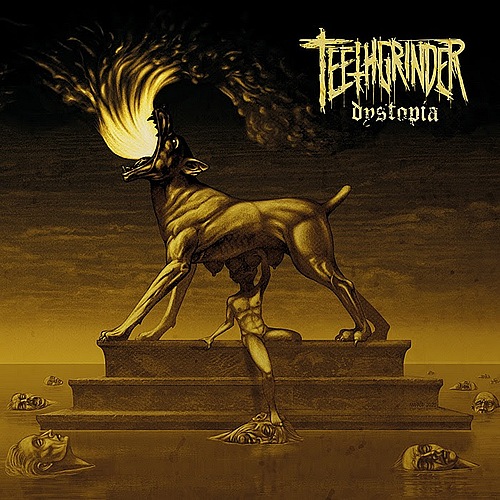 "Dystopia" tracklist:
Ascendance
Birthed Into Suffering
Worthless
Blood Ritual
Disgrace
Our Failing Species
God Complex
Cloaked
As I Believe The World To Be, So It Is
Dystopia
TEETHGRINDER live
24.06.22 FR – Clisson @ Hellfest
TEETHGRINDER on tour w/ BENIGHTED
05.11.22 BE – Louvain-la-Neuve @ Mass Deathtruction Festival
06.11.22 DE – Göttingen @ Freihafen
07.11.22 NL – Leusden @ Fort 33
8.11.22  DE – Essen @ Turock
11.11.22 FR – Tignieu Jameyzieu @ Le Triolet
12.11.22 DE – Aalen @ Haus der Jugend
13.11.22 AT – Innsbruck @ PMK
14.11.22 SLO – Maribor @ MC Pekarna
15.11.22 AT – Wien @ Viper Room
16.11.22 SK – Nitra @ Frankie Rock Club
17.11.22 CZ – Ostrava @ Barrak Music Club
18.11.22 CZ – Praha @ Rock Cafe
19.11.22 AT – Klagenfurt @ Volkxhaus
---
---