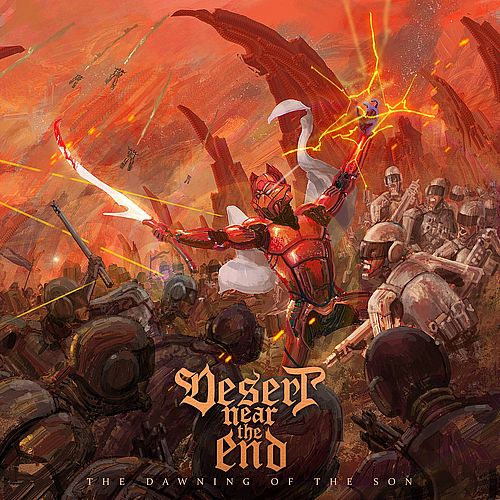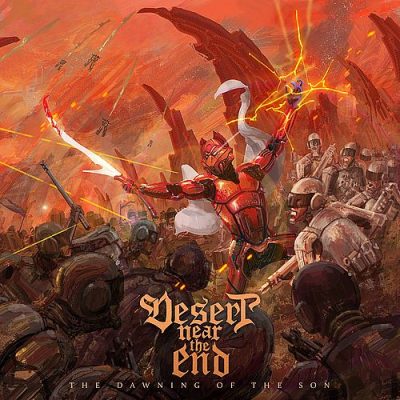 DESERT NEAR THE END
The Dawning Of The Son
(Thrash Metal)
---
Release: 27.05.2022
---
Obwohl die Griechen von DESERT NEAR THE END mit "The Dawning Of The Son" bereits ihr fünftes Album, wovon ich bereits drei reviewen durfte, präsentieren, überrascht mich immer wieder, wie nahe Sänger Alexandros Papandreou an BLIND GUARDIAN Fronter Hansi Kürsch erinnert, und dazu auch gleich musikalisch einige Parallelen geboten werden, das aber mit einem harten Twist.
So tönt auch das neueste Werk brutal und heavy, als hätte Hansi nen ganz schlechten Tag gehabt, bevor er ins Studio enterte und gleich mal den falschen Drummer mit rein nahm, denn der erinnert eher an BayArea Thrash-Größen und ist nicht minder sauer drauf. Dafür gibt es im Kontrast aber auch eindringliche Melodien, im Opener sogleich weibliche Unterstützung von Ruby Bouzioti am Mikro und astreine US-(Power) Metal Riffs, irgendwo zwischen ICED EARTH (oder auch die Splittergruppe ASHES OF ARES), die ebenfalls stimmlich manchmal durchbrechen oder CHARRED WALLS OF THE DAMNED, wenn auch nicht so frickelig.
Es steht außer Frage, die Band hat technisch so einiges zu bieten und es stört bei den starken Kompositionen auch überhaupt nicht, dass man hier aus seinen Vorbildern keinen Hehl macht, da man ja auch seinen ganz eigenen Drive mitbringt. Spätestens bei "Rise For Dominion" möchte ich noch die Schweden PERSUADER, die ihren Power Metal auch immer recht ruppig angingen und selbst Anleihen der blinden Wächter mitbrachten, in den Ring werfen.
So kann man sich auch auf wütende Blastbeat-Attacken, Vocals nahe an der Growl-Grenze sowie heftige Riffsalven gefasst machen. Da kann man oft gar nicht recht glauben, dass man es hier mit nur drei Personen zu tun hat, die hier eine gewaltige Soundwand auffahren. Einzig an Abwechslung und dem einen oder anderen echten Hitkandidaten fehlt es den Griechen auch dieses Mal. Das ist aber meckern auf hohem Niveau, wer mit einer thrashigen Version von Truppen wie ICED EARTH oder BLIND GUARDIAN etwas anfangen kann, der ist hier definitiv an der richtigen Adresse.
---
Tracklist "The Dawning Of The Son":
1. Break Rhe Chains
2. Rise For Dominion
3. A Wolf Amongst Lions
4. Iron Rain
5. I Am Hell And Hell Is Me
6. Wound My Way
7. Obsidian Angel
8. Beyond The Gates
Gesamtspielzeit: 48:11
---
Band-Link: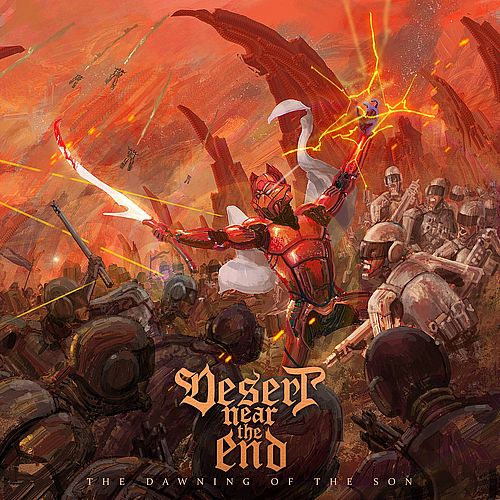 DESERT NEAR THE END – The Dawning Of The Son
LineUp:
Alexandros Papandreou - Vocals
Panos Kalompratsos - Guitars
Akis Prasinikas - Bass, Guitars