A look at the world around me and the time we have left
IN FLAMES will soon release their 14th album. The Swedish melodic death metal pioneers have repeatedly tweaked their style over the years and "Foregone" will again contain new, but also surprisingly old elements of the band. We met with frontman Anders Fridén before the show for a cozy chat on the tour bus.
---
It was difficult, I mean that's part of our life: touring, writing, recording and releasing. Things like thatAnders Fridén
---
Hey Anders, nice to meet you again. How is it going at the moment, and do you enjoy the tour?
Yeah, we are little bit more than halfway and it's going very well. It`s been some crazy times in the past two years, that just disappeared. And now we are back and like in full swing. We are very busy this year.
Sounds good! And now how does it feel to be back on the road after this long time?
It's great, of course. I mean you miss your touring family – the crew, the fans and also playing shows. We love what we do, so yeah, it feels good!
I really look forward to the show tonight. Before we get into more positive topics, last question about the pandemic. How did you cope as a band and also personally with the situation?
During the pandemic of course we didn't do anything. (laughs)
We live in different places in the world. Björn lives in Gothenburg, I live in Stockholm. I think we saw each other only once in two years. But I decided to build a studio in my house. I bought a bunch of old analog synths and started creating an album for my IF ANYTHING, SUSPICIOUS project. It was just doing something that was totally different from IN FLAMES to cope with the situation. It was difficult, I mean that is part of our live: touring, write, record and release. Stuff like these.
Firstly, me and my family were safe. We got Covid, but not that bad. You know people lost friends and family members. I think, for us as a band it was also a good break. In such times you realise what's important, you realise what you are missing, and you can't take for granted anymore. I think it's fairy easy if you are in this hamster wheel. You expect everyone will be there, visiting your shows, buying merch and stuff like that. All of a sudden that was gone, and I think it was good for us in a way.
So, you decided to write new music and record it, when you where sure you can do the typical tour-cycle?
Not really. I think there is two modes in IN FLAMES. We have a touring-mode and a writing-mode. And there is no switch you can turn on. When the situation with covid was better, me and Björn talked about all that. The "I, The Mask" tour was cut short due to the pandemic. It was such a long time and I thought let's write a new album and see what happens. As soon as we were allowed to travel, we went to the US for three weeks just to meet up with the producer and started writing stuff just to feel where this album was heading. And then after these three weeks – it was November last year – we went home for Christmas. And then in January we went to LA and rented a house. So, we stayed there for about two months to write and record. We do those things simultaneously; I mean we don't write the whole album and then record it. We always write, record, write, record, and so on.
So, that was good to do. Everything was done after Covid. All that happened, all the frustration, the whole feeling about time is not on your side: we took everything in this album. And that's the way why I think it sounds like it does, really.
I think it's the third album you recorded in LA?
Yeah, this one, "Battles" and "I The Mask" was recorded in the same studio.
You like it there…
I mean, it's nice and warm there! (laughs)
We usually do that in the beginning of the year when it's cold in Sweden. We found a really good working environment. Our producer Howard (Benson) is not far away. We have tons of friends already there and also a house with a small studio in it. For us it is important that we can focus 24/7 on the music. You never know when the inspiration hits you. If you are at home with an idea, you have to go to a studio, travel, meet everyone – and then maybe the inspiration is gone.
Do you had a plan for "Foregone" or did you just meet and see what happens?
That is a plan! Björn and I talked about a new record because we wanted to have new music when the whole covid-thing kind of disappeared. Actually, we are still in the "I, The Mask" cycle until the new record obviously comes out in 2023. Regarding the direction of the record, I would say Yes and No. You are moulded by your environment, what is happening around you. It is not like we have a meeting and say: "Lelt's do that or do this". Maybe we talk about, that we want the sound more guitar-driven, or maybe let's focus more on the production side or something like this. "Battles" was a little bit to layed back in the production and "I, The Mask" was heading more in the direction we wanted. And now, I mean we found a really good relationship with us and also Howard and his team.
And also, Joe (Rickard), who played drums on "Battles" and was mixing our new record, was in our team again. Our relationship is very tight. We understand each other very well. It's very easy to talk and work with him. Like very smooth. Well, that's the plan when it comes to all that. But about writing, there is no plan at all – it just happens at the spur of the moment.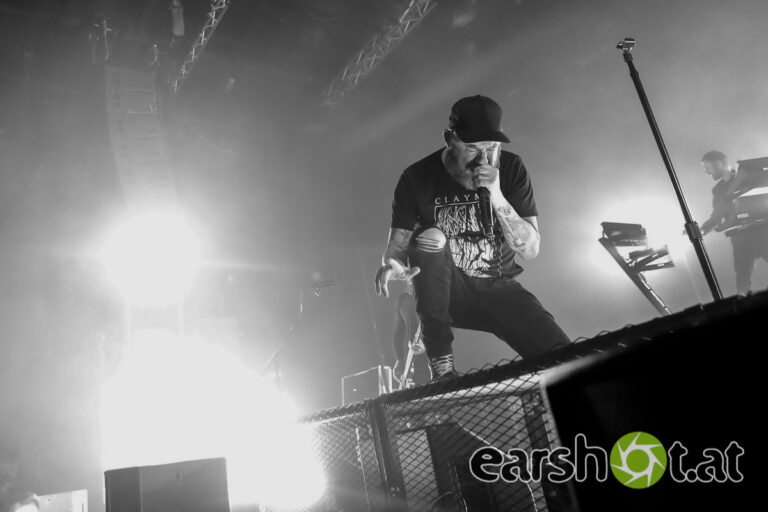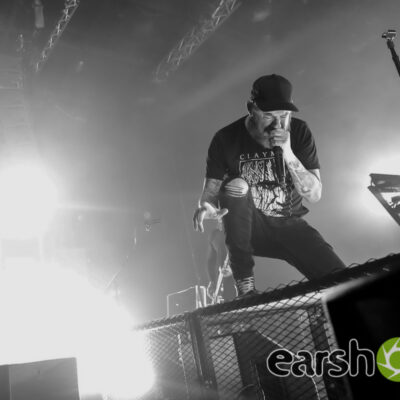 You shot new videos for the record. Do you still enjoy doing videos with you in it or do you prefer videos like the one for "I Am Above" – I really like that one – without you in it?
No, I am a musician. I'd rather be behind the camera than in front of it. And haha, this video is like Sinéad O'Connor tribute or maybe a spin-of of that what she did with "Nothing Compares 2 U". That one was real fun. I am happy when we have actors for the videos.
Do you think the last couple of years had also an impact on your lyrics?
Yes, sure. Everything around me has an impact on my lyrics.
So, do you think your influences for the lyrics changed over the years?
I guess. It's hard to pinpoint because it's my world. It's easier from the outside maybe. But I think this album is more a look at the world around me, than a look inside me. It is more an observation of the time we are in right now and also the time we have left.
Sometimes your lyrics are not so easy to understand or maybe sometimes a little bit cryptic. Do you talk to the bandmates and other people about your lyrics or is it more a kind of your thing?
Oh, it's my thing, a hundred percent. I have to explain some things in the interviews, but these are my lyrics, I write them…
But can you tell me just a few words about the two title tracks "Foregone Pt. I & II"?

"Foregone" means or is about the end we are all heading towards. You don't know the clock in your DNA. It might be tomorrow or maybe in 30 years. Hopefully more than thirty years for you! (laughs)
And the same for me. We don't know when it happens. If we would know…what to do with the time we have left. Do we constantly grinding continue, continue? Do we look in the past and try to learn from our mistakes. And what do you do at the end of everything, when you meet your maker and he, or she, or what it ever is, and you look at your life and say "Oh, fuck it" do you actually think about what happened.
I don't think my lyrics are cryptic, but I write them in such a way… I mean I use metaphors, so you can adapt it to you. I think, if it is in your hands to interpret it, rather than me explaining everything, it will become greater. Then the song takes a life on it's own and hopefully last longer.
In 2020 IN FLAMES turned actually 30 years and for you and Björn it was 25 years with IN FLAMES, did you celebrate that in any way as a band or do you still plan to celebrate this in a bigger way?
We never celebrate anything, but "Clayman" after 20 years. We usually find out through the fans, or someone is telling us that this or that album maybe turned 20 or whatever. We never celebrate anything. When "Clayman" turned 20, the record company, management, and people around us had the idea, so we also thought that we could do something. Something to clap own your own shoulder to say, you did something good. I mean to show our self we do that already for several years.
I guess every record is great or in a way important to you, but speaking of "Clayman" do you remember something really special about it, when you created it in 2000?
You are right. All albums are important and also all of them are the reason why we are here today. If we would take only one out, I think we wouldn't be here on this point today. There would be a different path, I guess. If you think about stuff, you did so many years ago, it is like you only remember the good things and forget the tough stuff that was going on. But this one was a tough record to make.
We where at the end of our relationship with Fredrik (Nordström – Producer). We were supposed to do "Clayman" with Daniel Bergstrand as producer. I talked to Daniel that we want to do it with him, but he was busy with another project. Don't get me wrong, Fredrik was very important to us, but we had this long relationship, and we were at the end of that, whatever it means. I love that guy and he is very important to us. In this time, he was not in the studio this much and had this idea, working 9 to 5 and tought "fuck, we are a rock band, we don't work 9 to 5".
So, to think about getting up with an alarm and go directly to the studio… I mean, I can't sing at 9 o'clock in the morning. To me music is not an office work. That is the reason, why I am in the music business. It is about Vibes, you are "vibing" things and you go with the flow. But he had this idea. So, we recorded alone in the evening and the came in the morning an during the day, kind of to safe the project and to go through all the crap that we did. In the end he mixed the album, and he did a good job, of course. But it was a strange working environment. That is something I remember, but a lot of good things came out of it. "Only For The Weak" came out of this session and it is still one of our biggest hits.
And what comes in your mind if you think you are already 25 years part of IN FLAMES?
I am really proud of what we archived with everyone and that we created a sound that is recognizable. If you hear an IN FLAMES song, you know that it is an IN FLAMES song. Whether you like it or not, you know it's us. And that is something I am proud of. And also, that we can travel the world and I can still do what I do. I love this and I am so fortunate that I can do what I do.
Sounds great. One cool thing for you is maybe, when you think back in the day when you started to make music, you of course had idols, bands you loved, bands who are the reason why you started to make music. And now young people start making music and start bands because of you! How does that feel?
It doesn't make me feel better than anyone, but yeah that's awesome. It is also natural. We are around for quite a time, and we took influences, as you said, from that we listened to. We mould that into our own ideas, into our own world. But that is how the metal world works. You take influences and turn it into your own stuff and start your own path. That makes me proud, but I don't walk around and think I am better than anyone. So, yeah that's great.
I'm afraid, we must come to an end, but thank you very much for the interview. Do you have something left to say?
Haha, yeah I have a lot of things to say, but that will be a couple of years from now. So, I have a lot of things to say. No thank you, I appreciate that. Again, I am very happy, that we still here and we can still do what we do and I am proud of our fans, because without them all this is not possible.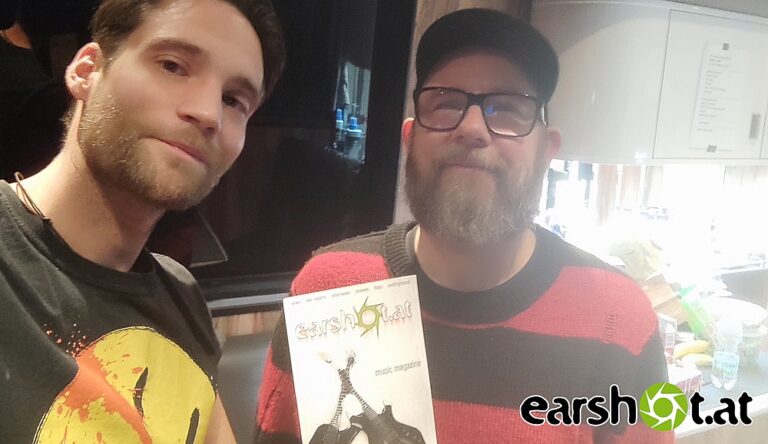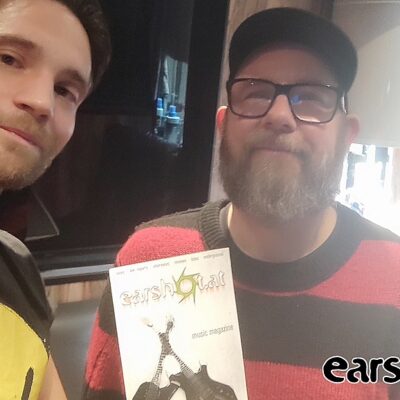 ---
Band-Biografie (Quelle Wikipedia)
IN FLAMES is a Swedish Heavy Metal (Melodic Death/Modern Metal) band, formed by guitarist Jesper Strömblad in Gothenburg in 1990. Alongside At the Gates and Dark Tranquillity, In Flames pioneered the genres known as Swedish death metal and melodic death metal. During the band's early years, In Flames had a varying group of musicians recording with them, including many session musicians. By the release of Colony (1999), the group had established a stable lineup.
More on: Wikipedia