The essence of this band is change
THE HELLFREAKS from Hungary came out of nowhere with "God On The Run" and are currently thrilling with their latest work "Pitch Black Sunset", which is causing more than just a stir. We talked to energy bundle and front woman Shaky Sue about the album, the past and the future of this up-and-coming HC punk band.
---
This record is the most honest one I've ever revealed!Shaky Sue
---
Hi Sue and thanks for doing this interview! How are you, and what are you doing at the moment besides answering my questions?

Hi Max! Thank you very much for having me!
Just to be as specific as possible: right now I'm organising our rehearsals with the band. We're going on tour in May and will play some of our new songs for the very first time live. That means we have to prepare a new setlist these days.
Legend has it that "Hell was full so they came back…"! So, my question is, how and why did you actually end up in Hell?

Haha, well … I was born in Hungary, I guess that's where it starts! 😀 But to avoid any misunderstanding: I love my homeland, but when it comes to the underground rock / metal / punk scene it is a very difficult place and the situation is incomparable with western European countries. It always was not and it won't get easier to keep up the live underground music scene.
There are many successful bands out there who made it from even more hopeless places, that's why I have an immense respect for them. But there are a crazy amount of obstacles we had to deal with in our history caused by our situation. But in 2009, when we started with the band, we decided to accept the challenge and no worries – we still stick to it. 🙂
You just released your new and really great record, "Pitch Black Sunset" a few weeks ago. How do you feel about it, and what have the reactions been so far?

Actually we're blown away by the amount of positive feedback we received. We got many 10/10 reviews from all around the world. This is crazy.
We are playing a kind of risky game as we love to mix the elements of different genres, but at the same time we hate to repeat ourselves. That's a deadly combination, we know that. And that is also the reason why all of our albums are quite different from each other. But because of that, we never know what to expect when we release a new song. For example this time we were quite afraid to release the single Weeping Willow, but it turned out to be one of the most popular songs from the album.
This time I really feel that we reached something: so many people from all around the world seem to appreciate our mindset! Our fanbase is so open minded regarding musical genres … we're doing this for a quite long time now and have faced a wide variety of genre gate keepers here and there. That's why our fanbase makes me extremely proud, as this or rather they are something very special. I appreciate them very much.
Can you tell me a little bit about the founding and beginnings of THE HELLFREAKS, and how did you choose the name for the band?

We're not newcomers so we have a pretty long story, with many ups and a few downs. We didn't start this band together, we're more like puzzle pieces that found each other later on. The band is over 10 years old, so it's taken a long time to get to where we are today.
I got into music literally by accident. I was a professional gymnast, sport was pretty much my everything – but unfortunately I once landed wrong on my feet, which resulted in a spine operation when I was 14 years old. I had to recalculate my life and fill the gap that my sports career had left behind. It was a difficult reality to accept at the time. The physical pain was nothing compared to the hole in my soul that I tried to fill. That's how I found music and a couple of years later, ended up forming THE HELLFREAKS in 2009.
I was more or less a teenager, a young adult when we formed the band. Regarding the name the only thing I can clearly remember is that I came up with the idea for the name when I was working at one of my very first jobs – a rockabilly bar where I didn't even earn $2 an hour, so far from home that it was almost impossible to get back late at night. The birthplace of the band was quite a hopeless one, so compared to then, we're very happy with how far it's come!
What can you tell me about the title "Pitch Black Sunset," and how does the artwork fit with this idea?

Since our last album our world around us has turned much darker than what we ever expected. Covid, war, inflation. Enough reasons for introspection to find out if there is any light left in us. An excursion between the best and worst parts of us.
Pitch Black Sunset is about how these contraries interfere with each other: the past and the future, peace and chaos, eastern and western culture, life and death.
Our goal was to highlight these opposites on our cover. I found the original photo by accident on Instagram. It's made by Ramona Clara Deutsch, a german photographer: The sunflower is a perfect representation for light, that is surrounded by a dark void on the cover. The photo was love at first sight and we are grateful for finding Ramona!
With "Sunrise" at the beginning and "Sunset" at the end, it seems like there is at least a loose concept for this record. Am I right?
We're not the type of band who lays down any kind of concept before we start the writing process. We always give the natural flow its space and literally see what happens. We were almost ready with the full record when we took a step back to be able to have a kind of overview. Only then we saw that actually there is a concept. But it all happened unconsciously.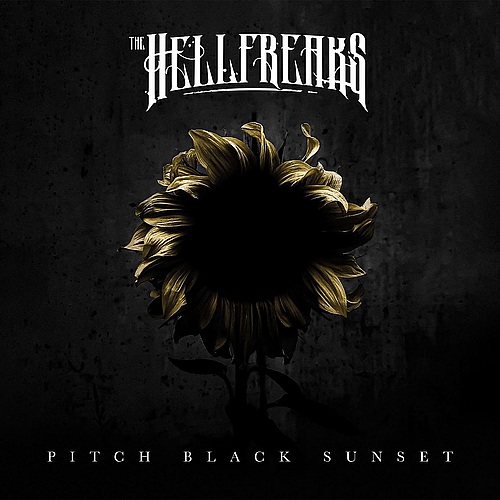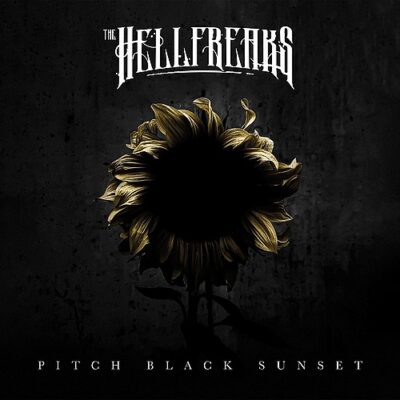 You are going to play a bunch of shows in Germany. What can fans expect, and what do you expect from these gigs?

You can expect loud rock music, sweat, headbanging, honesty and a show without any pauses.
But to use the words of someone who has actually seen our show from outside – "At the beginning of your show I thought I would go out to the bar to catch a beer when it goes down a little, but now your show is over and I'm thirsty as hell!"
I am also looking forward to seeing you live soon. Are there any chances that you will play in Austria soon?

We had plenty of shows in Austria in our history, so we definitely want to come back. Not only because it is just like a jump from Hungary, but also because I spent my childhood in Vienna. I love Austria. It's so peaceful.
I really like the mixture of aggression and catchiness in your sound. Was it your goal to combine those elements so perfectly on this record, or was it just a natural thing?

The essence of this band is change.
Everyone who has followed the band for the last 14 years knows that we really don't like to repeat ourselves. Whatever we do, we try to improve what we already did. The part we really enjoy is to experiment and try out things that we haven't before. Of course we stick to the rock genre, but not one of our albums is like the other. I guess most bands would say that their main goal was to create something unique. But our approach is way simpler – we wanted to mix the elements of music we really like without thinking of genre limitations. This is an extremely natural process to us, so actually, the real challenge would be, if we would force ourselves into one genre.
What are the differences for you in comparison to "God On The Run"?

While the last album was more or less the type of punk rock music that we would have wanted to write in our teenage years (but we were not good enough to be able to ), with "Pitch Black Sunset" we focused more on the future: we wanted to make a mix between punk, hardcore and metal music and we weren't afraid to use more aggressive elements. It is the type of crossover that we would love to hear more out there.
I also had a personal interest in making the music heavier as I focused my vocal training journey for years on metal screaming techniques. It took a while till I felt comfortable enough to use these, but now it's simply so much fun to do it, and such a good spice to express feelings that I really wanted to bring it in as a new element in our music.
How is actually the procedure of creating and recording your song and did that change over the years?

We've experimented a lot on that. But what seems to work the best is when the instrumental part comes first.
Usually Gabi puts together some first ideas for all instruments. The idea has to contain a verse and a chorus before I actually can start to work on the material. At this point I listen to this raw idea for a million times and start to work out the vocal melody. I think that is the part that I'll never reveal to the world, as I have no lyrics at this point, which means that we are recording senseless words to play around with the vocal melody. And it sounds ridiculous. When we're done with the main structure, Gabi starts to work out the details with our guitarist Jozzy and drummer Béla. And as the very last element I finalize the lyrics. But even after everything, it often happens that the song ends up weeks later in the trash.
I think people expect bigger changes than we actually did to put this record together: Maybe I educated myself a lot this year and that's why I had more "vocal tools" to use to express myself. And maybe we could involve Jozzy more into earlier stages of the writing process. But I think the most important factor was that we did not feel that we 'own' our younger selves anymore like we did with God On The Run. I've never felt musically so free like with this album.
Do THE HELLFREAKS have conscious or unconscious influences?

There is no clear answer when it comes to our influences. I guess everything I listen to is an influence in some form and the palette goes way beyond your suggestions! I'm personally a huge fan of female fronted metal and hardcore bands, like WALLS OF JERICHO, MARMOZETS, IN THIS MOMENT, DISTILLERS, THE PRETTY RECKLESS or bands like BILLY TALENT, OFFSPRING or GORILLAZ.
But this is just me highlighting a tiny little piece of the whole puzzle. The rest of the band would list here a crazy wide range of bands they like, from Gojira through De Staat to Queen. And it all somehow finds a place in our music.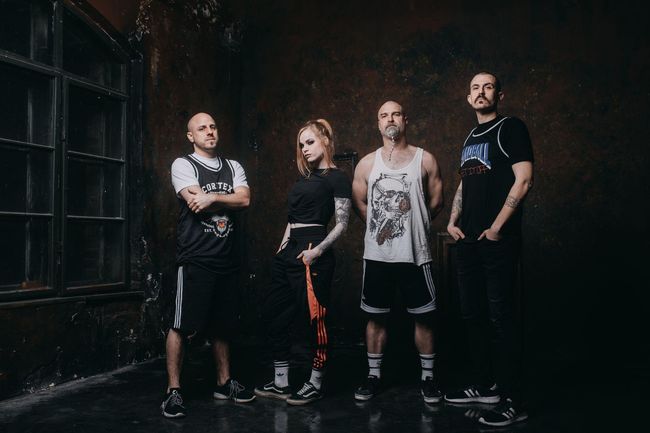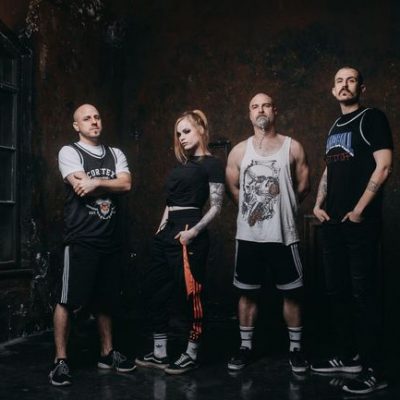 And what are your influences for the lyrics?

My lyrics are always dark, because that's where my inspiration comes from. I think the key of underground music is the honesty that it carries and this record is the most honest one I've ever revealed from my side. It really goes down the rabbit hole, but I think a lot of people have dark thoughts. It is normal. But we're still told that we should hide these, we should not speak about it openly because it's weird. But it's not weird. I'm not special at all, so a lot of us go through similar things and through music like ours we are able to connect, relate and even help each other.
For a long time, you had this DIY attitude. What was the impulse to join a major label like Napalm Records?

We built up this band with a very strong DIY background. We were signed to smaller labels before, but we tried to hold as much as possible in our own hands. The wish to get signed to a bigger label was born only a very few years ago, when we felt like we had reached everything that we could on our own. It was too much and we wanted to have a partner on board whose knowledge and network could support our goals.
Napalm Records was actually my first choice, as they work with many bands I love. We're very grateful for their team up!
What's next on the list for THE HELLFREAKS?

The next step for us is to rock the following stages:
19.05. – PRAGUE (CZ) Klub 007
20.05. – VISBEK (DE) Visbek Rockt Festival
21.05. – HANNOVER (DE) Bei Chez Heinz
22.05. – HAMBURG (DE) Logo
23.05. – BERLIN (DE) Wild At Heart
24.05. – KOELN (DE) MTC
06.07 – ZWICKAU (DE) Störfaktor Festival
21.10 – OSTRAVA (SK) Alterova Festival
27.10 – BUDAPEST (HU) Dürer Kert
Before we come to an end, what can you tell us about the Hungarian Metal/Punk/HC-Scene? Do you have some bands you would suggest to check out from your area?

Our country is not that big and it has a lot of limitations when it comes to club life these days. We don't really have genre specific clubs like in cities such as Berlin or London. That's why it would be hard to define any kind of trend in the underground music scene. But compared to the size of our country, we have a lot of great and talented bands, and I can definitely see the growth in their ambition to go further the country borders with their music.
Actually we just put together a top 10 list of metal bands in Hungary: Loudwire asked us to share our point of view of the most influential Hungarian bands. But if you want a short cut: check out the hardcore band THE SOUTHERN ORACLE. We have some personal connections here because our bass player Gabi Domján played, wrote and recorded the bass parts for their latest album, and our drummer Béla Budai is also the drummer of this band.
Also check out the Hungarian band TIANSEN – they are going to support our album release show in Budapest.
Thank you very much for your time, and all the best with your new record! Is there anything left to say?

Thank you very much for having us. We hope to see you all soon!
---
Band-Biografie (Quelle Wikipedia)
The Hellfreaks are a Hungarian punk rock band from Budapest, formed in 2009. Originally a psychobilly band, the band switched to punk rock on their third album Astoria. The Hellfreaks were formed in February 2009. However, the band's history began back in 2007 when the two founders played in a surf psycho band called Los Tiki Torpedoes. Freaky Tiki was a guitarist and Shakey Sue was a drummer. After many performances together, the two decided in 2009 that they wanted to take a harder musical stance. More on:
Wikipedia