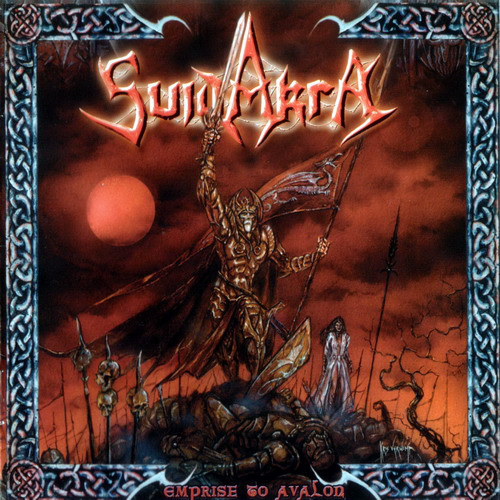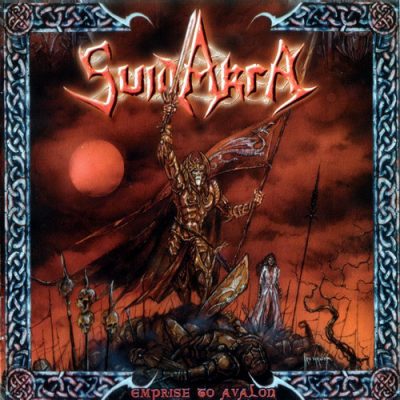 SUIDAKRA
Emprise To Avalon
(Melodic Death Metal | Celtic Metal)
---
Release: 26.07.2002

---
"Faded words once building
So silent woeful memories
They gather their dreams so pale
In a runic rhyme"
A Runic Rhyme
Wo SUIDAKRA drauf steht, ist auch SUIDAKRA drin – wer noch nach den ersten Chords grübelt, weiß es spätestens nach dem Einsatz der Vocals von Arkadius sicher. Selbiger, der noch E-Gitarren, Bass und Keys inne hat, bildet mit Marcel (Akustikgitarre, Tin-Whistle, cleaner Gesang) und Lars (Drums) das Gerüst der Deutschen.
Dem Kenner wird der Line-Up-Wechsel sofort ins Auge stechen, kein Möller mehr, keine Daniela. Musikalisch gesehen gibt es wenig Neuerungen zu berichten, Black/Deathgesang, cleane Passagen, sehr melodiöse Gitarren, gelegentliche Keyboarddrüberstreuungen, oft unterlegt von treibenden Double-bass-drums, die Lars natürlich schneller und spielfreudiger einsetzt, als sein Namensvetter von METALLICA. Dazu die dezenten Folk-Einflüsse sowie gelegentlicher Clean-Gesang und ein paar Akustik-Parts zur Auflockerung. Highlights neben dem furiosen "Darkane Times" sind aber sicher die ruhigeren Stücke "And The Giants Dance…" und "Still The Pipes Are Calling".
SUIDAKRA haben ihren Sound beibehalten und nur im Detail etwas getweakt und verbessert. So ist das fünfte Album der Deutschen rund um Arkadius Antonik, das bisher stärkste der Truppe, auch wenn man kaum Neues bietet.
---
Tracklist "Emprise To Avalon":
1. Darkane Times
2. Dinas Emrys
3. Pendragon´s Fall
4. The Highking
5. The Spoils Of Annwn
6. The Quest
7. And The Giants..
8. Song Of The Graves
9. Still The Pipes Are Calling
Gesamtspielzeit: 40:00
---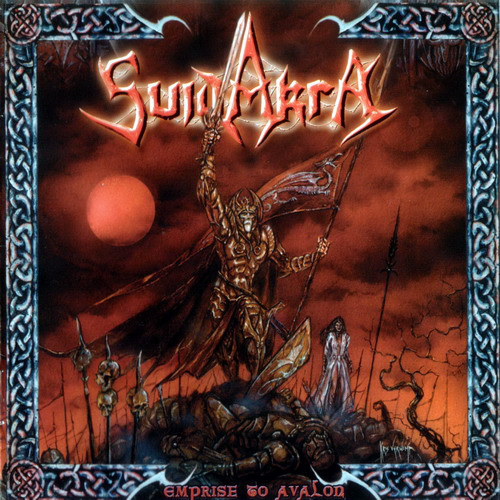 SUIDAKRA – Emprise To Avalon
LineUp:
Arkadius Antonik
Marcel Schoenen
Lars Wehner
Tim Siebrecht