Timo Tolkki ist mittlerweile schon seit 13 Jahren nicht mehr Teil von STRATOVARIUS, und inzwischen etwas leiser getreten, aber durchaus noch kreativ und so liefert er nun das vierte AVALON Album. Mehr Projekt als Band, wechseln hier ständig sowohl die Mitmusiker als auch die Gastsänger. Mit im Boot sind auf "The Enigma Birth" die Italiener Andrea Arcangeli (DGM) Marco Lazzarini (ARCHON ANGEL, SECRET SPHERE) und Antonio Agate (SWEET OBLIVION), die allesamt irgendwie mit Frontiers Music verbandelt sind.
Wie von Tolkki gewohnt gibt es ein buntes Gemisch aus Power und Melodic Metal, der stets irgendwie an die verschiedenen Sänger angepasst wird. Klar sticht hier, gerade bei den Keyboards viel STRATOVARIUS heraus, mit Entdeckung Raphael Mendez (ICON OF SIN) klingen "Master Of Hell" und "Beauty And War" wie ein interessanter Mix aus finnischem Power Metal und eben IRON MAIDEN. Die Tracks mit Fabio Lione (RHAPSODY, Ex-VISION DIVINE) gehen noch am stärksten in Richtung früher STRATO-Songs und der Titeltrack mit PelleK wie eine Kooperation zwischen Tolkkis frühere Band, SONATA ARCTICA und MAJESTICA. Für Abwechslung ist also gesorgt, die Songs sind technisch einwandfrei und auch der eine oder andere Hit und Ohrwurm ist zu finden. Dazu gesellen sich einige Songs mit weiblichen Vocals von Brittney Hayes (UNLEASH THE ARCHERS), Marina La Torraca (PHANTOM ELITE) oder Caterina Nix (CHAOS MAGIC). Als weitere Highlights sind die beiden Tracks mit James LaBrie (DREAM THEATER), die passenderweise etwas komplexer ausgefallen sind, zu nennen.
Unterm Strich liefert Tolkki hier wieder eine Art Best Of des nordischen Power Metals – ich würde jetzt gern sagen: "Nicht mehr, aber auch nicht weniger", durch die starken Gesangsleistungen, ist es aber dann doch ein bisschen mehr.
---
Tracklist "Return To Eden":
1. The Enigma Birth
2. I Just Collapse
3. Memories
4. Master Of Hell
5. Beautiful Lie
6. Truth
7. Another Day
8. Beauty And War
9. Dreaming
10. The Fire And The Sinner
11. Time
12. Without Fear
Gesamtspielzeit: –
---
www.facebook.com/Timo-Tolkkis-Avalon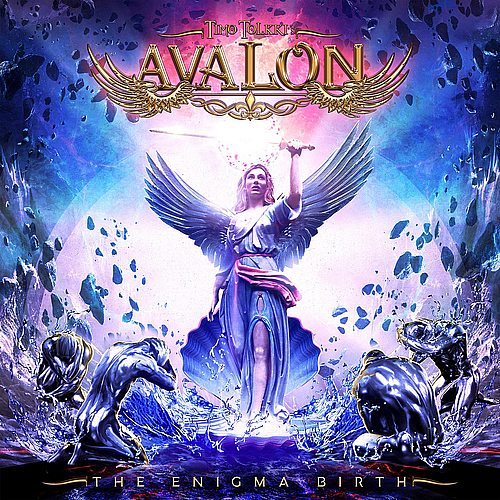 AVALON – The Enigma Birth
LineUp:
Timo Tolki
Andrea Arcangeli
Antonio Agate
Marco Lazzarini
Sänger:
Fabio Lione
James LaBrie
PelleK
Caterina Nix
Brittney Hayes
Raphael Mendes
Jake E
Marina La Torraca