Die mittlerweile schon kultigen 80s Rocker aus Schweden THE NIGHT FLIGHT ORCHESTRA rund um SOILWORK Fronter Björn "Speed" Strid sind bald auf Tour und machen auch in Wien Halt! Sicher euch Tickets für die erste Tour nach dem tragischen Ableben von Gitarrist David Andersson.
---
THE NIGHT FLIGHT ORCHESTRA wurde vor fast einem Jahrzehnt von befreundeten Musikern mehrerer bekannter Rock/Metal-Bands (SOILWORK, ARCH ENEMY, MEAN STREAK) gegründet. Mit fünf Alben auf dem Buckel, zwei Nominierungen für den schwedischen Grammy, unzähligen Live-Shows und dem Lob von Fans und Medien gleichermaßen haben TNFO eine Tugend daraus gemacht, ein Jahrzehnt zu feiern, das bis heute alle möglichen Menschen und sogar Branchen beeinflusst – die 80er. Mit Hits wie "Domino", "Lovers In The Rain", "West Ruth Ave", "Divinyls" und "This Time" schafft es die Band, auf jedem Album abwechslungsreiche Stimmungen und Emotionen aufrechtzuerhalten – von Hardrock bis Progressive Disco-esque Songs und fast kitschige, aber liebenswerte Balladen.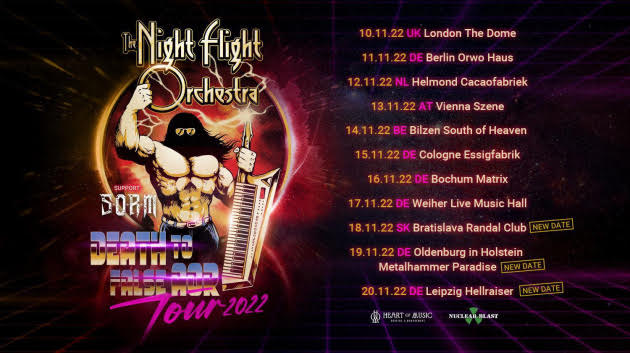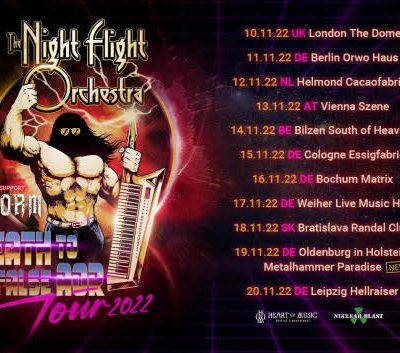 Statement der Band:
"The Legacy continues… September 14th, in the year of 2022 will be a date that none of us will ever forget. Our guitarist David Andersson shut his eyes forever. It was the day we've all dreaded for quite sometime. Our hearts are grieving. As Björn went to visit David for the last time at the hospital, he gave him the blessing to continue the musical journey that they both embarked on some 12 years ago. Despite David's fairly long absence from the band as a touring member, we've had an amazing and busy summer with unforgettable shows. However, there's one thing we haven't done in a long time: playing club shows. We can't see a better way to celebrate David's life and music, than to embark on this mini European tour in November, that we've been planning for quite a while. We encourage you to join us in this celebration and dance the night away. This winged and nocturnal journey must continue. In David's honor, we've also named the tour "Death to false AOR". He would've loved that – cause if there's one thing he loathed, it was false and non organic AOR.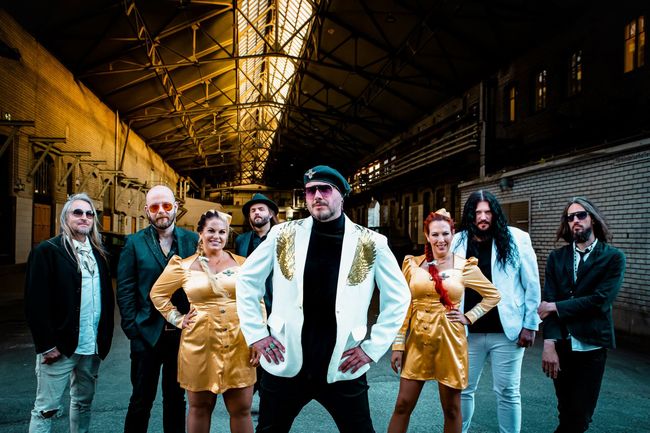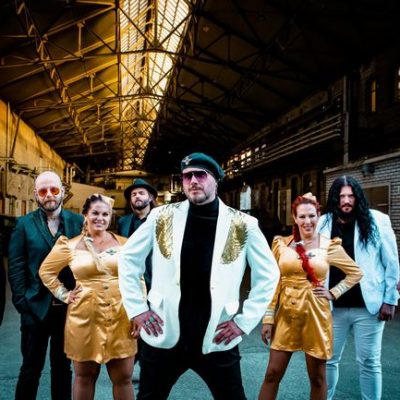 Als Support wurden die schwedischen Hard Rocker S.O.R.M. angekündigt.
Deren Fronter und Gitarrist Micke Holm hat folgendes zu sagen:
"We are happy to be joining 'The Nightflight Orchestra' on the 'Death To False AOR 2022 Tour' this November! We can promise you that this will be something very special to see! Two bands with influences from the 70-80s Rock/Hard Rock just ensures a good time and night to remember!!! No matter how hard the hangover the next day – We can promise you all that you won't forget S.O.R.M.! Now fear, it's all about the beer/ S.O.R.M!!!"
THE NIGHT FLIGHT ORCHESTRA Tour 2022:
Death To False AOR Tour 2022:
10.11. UK London – The Dome
11.11. DE Berlin – Orwo Haus
12.11. NL Helmond – Cacaofabriek
13.11. AT Vienna – Szene
14.11. BE Bilzen – South of Heaven
15.11. DE Cologne – Essigfabrik
16.11. DE Bochum – Matrix
17.11. DE Weiher – Live Music Hall
18.11. DE Weissenhauser – Metal Hammer Paradise
19.11. DE Leipzig – Hellraiser
20.11. SK Bratislava – Randal Club
---
Band-Links: