"New York Hardcore" nennt sich die Schule in der der harte Sound von BACKTRACK aus Long Island geformt wurde. Seit 2008 ist das Quartett aktiv und liefert mit "Bad To The World" nun den dritten Longplayer nach "Darker Half" und "Lost in Life" ab.
Schon der Opener "War" macht in knapp 1:44 Minuten keine Gefangen und geht ordentlich nach vorne, die Songs variieren etwas im Tempo und pendeln sich zwischen schnellem Hardcore-Gebolze wie bei "One With You" und MidTempo, bei welchem natürlich die obligatorischen Gangshouts wie in "Dead At The Core" nicht fehlen dürfen, ab. Auch fällt die Produktion der Platte deutlich tigher aus als in der Vergangenheit und es fehlt nie an Druck, während sich der Mann am Mikro James Vitalo gehörig auskotzt. Bis auf das kurze Gitarrensolo in "Cold-Blooded" das so ungefähr niemand braucht, sind die zehn Songs durchwegs gelungen.
Wie es sich für eine ordentliche Hardcorescheibe gehört ist nach knapp 20 Minuten aber auch schon alles gesagt. "Bad To My World" ist eine gelungene Veröffentlichung, die wohl einen guten Eindruck von BACKTRACK gibt, aber dennoch gilt hier, am besten funktionieren die Songs mit Sicherheit direkt live.
Die Scheibe wird sich aber auch nahtlos in meinen "Fitte-Soundtrack" zwischen MADBALL, WALLS OF JERICHO, LIONHEART und WISDOM IN CHAINS einreihen und wird mich mit Sicherheit den Winter über in der Kraftkammer pushen.
---
Tracklist "Bad To My World":
1. War
2. One With You
3. Bad To My World
4. The Deep Is Calling
5. Dead At The Core
6. Cold-Blooded
7. Gutted
8. Crooks Die Slow
9. Never Ending Web
10. Sanity
Gesamtspielzeit: 20:11
---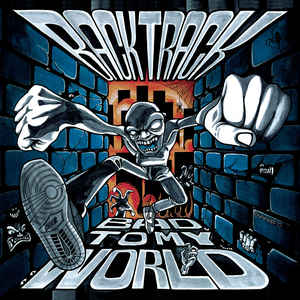 BACKTRACK – Bad To My World