Rock, like there is no tomorrow
We had the chance to talk to Ulvar, known as the drummer of the legendary Viking Metal Band EINHRJER!
---
We weren't the first band that was thinking along those linesUlvar
---
How are you and what´s going on at the moment?
Hi there, I´m doing great. Haven´t you heard, there´s a huge pandemic going on. It´s worldwide. People are dropping like flies, and there are no gigs whatsoever. People even think the earth is flat, and the moon is made of cheese. But I´m sitting here in my bubble listening to ACCEPT with a beer at the moment, so all is good.
How much does the pandemic currently affect your life, both privately and as a musician and perhaps also as a normal working person?
When I first showed our music to my parents, they said "Well son, don't quit your day job", and now I'm glad I didn't?. As a musician, this past year has been as bad for me as for everyone else in the music industry. Now, we're not dependant on this financially, but it would be nice to have the opportunity to travel around and promote our new album. Personally, I don't really feel there's a big difference. Norwegians aren't prone to run each others doors down in the first place, so it's nice to know that I won't get any surprise visits. I've actually been so lucky that I've been working throughout the whole ordeal. Right now I'm glad that I don't have all eggs in one basket.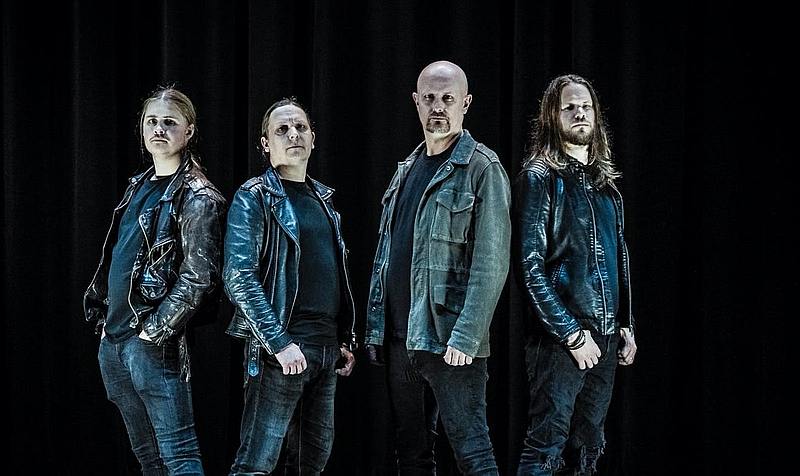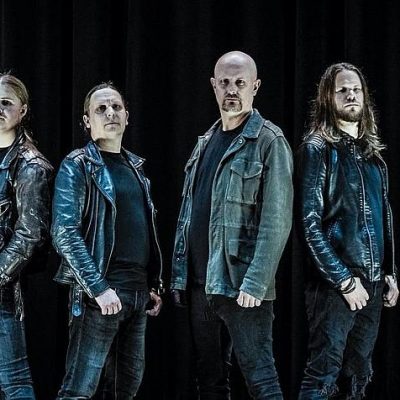 You are booked for Karmøygeddon Metal Festival 2021, where I wanted to go, but I think, this festival will also be postponed like so many others. What do you think, when will festivals take place again?
I'm thinking 2021 will be much like 2020 unfortunately. Screwed! As you might have heard, Karmøygeddon was officialy cancelled recently. I expected as much. As most of the festivals take place during the spring/summer, I don't see anything major happening this year unfortunately. I'm hoping for next year.
Some festivals like Hellfest are making online-festivals! What do you think about this?
Well, desperate times call for desperate measures. I wouldn't say it's a satisfying replacement, but at least something is happening. I don't knowexactly how Hellfest are faring these days, but I suspect there are many people in the music industry that are struggeling to keep their heads above water.
EINHERJER are often named the pioneers of Viking Metal! How does it feel, when people call you this?
I don't know. I'm kind of ambivalent towards the whole thing. We also have our inspirations. Bands like BATHORY and MANOWAR who are also known for dabbeling with these kinds of topics. So we weren't the first band that was thinking along those lines. One thing that feels ok though, is that we have contributed some innovation to the metal scene.
You are from Haugesund – I know this place – which is also named the birthplace of Norway! Was this inspiring for you?
Yes, it is very important to us in the creative process. Not necessarily because it's the birthplace of Norway. It's the place itself. It's our home, and it's a place we are deeply connected to. And the older we get, the more grounded and rooted we get to this place. Probably some heavy nostalgia in there somewhere.
You have a new album named "North Star"! Is there a special story behind this title?
Well, first of all, it´s a cool title. "North" is a thing we have used in the past on occation. "Dragons of the North", "Far Far North", and so on. Other than that, it has a more symbolic meaning to me. It´s more like a goal or waypoint you create for yourself. Like a path to follow. For EINHERJER, I think we created that path when we recorded "Norrøn". That path can still be uphill.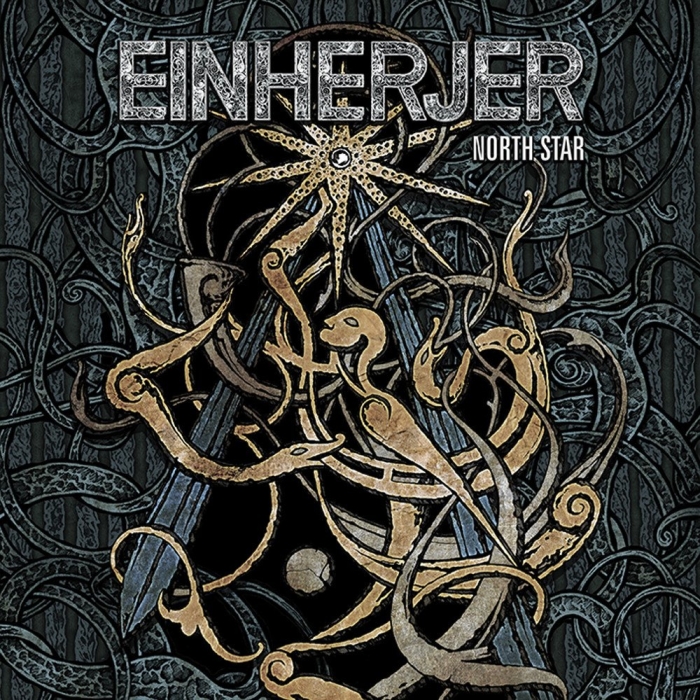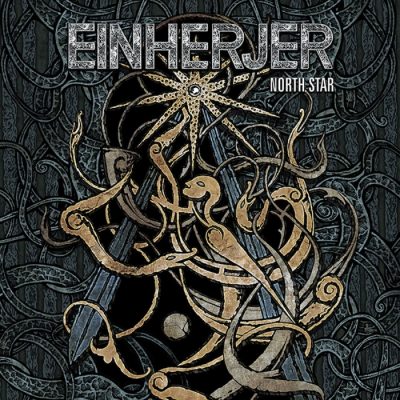 Norway has very strict regulations for meetings. How did this affect your work on this album?
Yeah, we've been on an off lockdowns now since March 2020. I remember in the beginning of this thing, everybody was a bit panicky over the whole situation. The newspapers wrote in war types about this new terror virus. So naturally everybody was more cautious in the beginning. We also sat on our asses, and didn't meet much at all. But then after a while, we realised that nobody we knew, knew anyone who got sick from this crap, so we started working in the studio in between lockdowns and quarantines and whatnot. After that I would say that the recording process has been quite peaceful. No distractions from other stuff. Obviously, now the situation has changed here, as all these new mutations start to spread, and the whole thing comes a lot closer.
Is there something special, that you want to tell about this album?
I guess it's a straight forward album, like any other album. It's a round disc with music on it. And it's stored in such a way, that it can be transported to far away places, so other people can listen to it. Some of the discs are small are shiny, whilst other discs are big and black. (sorry about that) Musically though, we just continue down the road where "Norrøne Spor" left of. I think we've found something that works for us, and we want to explore that further. No need to change stuff that works.
You have connections to my home-country Austria – your label is based here! Why did you decide to choose Napalm Records?
Well, mainly our contract with Indie Recordings was over. We've been with Norwegian laberls for the later years now, and it was time to check the market so to speak. We pulled out our fishing rod, and started to fish. When Napalm Records showed their interest, It was a pretty easy choice for us. We have a history with them, which makes the trasition easien. We have high hopes for this.
What was the highlight in your career until yet?
Maybe that it's still rewarding enough for us to keep going. It's insane that almost 30 years have gone by, and we still enjoy playing in a band. We are privileged to have experienced all the stuff we have experience. Just to be able to tour with KING DIAMOND for example is a huge thing for us, as we're fans for life?. Playing at the main stage at Wacken was a big deal for us as well. Completely unheard of some years before. But I guess it's all the great people we meet all over the world that makes this whole thing so rewarding. That's what I miss right now. To have a beer with far away friends at a festival somewhere.
And is there a special place, where you want to play a concert some day?
Mars. I would like to play on Mars. Unfortunately, that's not gonna happen any time soon. Something more close to reality, would be Iceland or the Faroe Islands. Strange really, I've never even been to any of those places, and it's just a canoe trip away. Travelling around with the band, is a lot more than just playing. It's about visiting and experiencing new places.
What are your plans for the future?
As for the immediate future, everything is just a blur right now. So the only thing to do these days, is to start working on material for the next album. There are some ideas already lying around. Right now we're just hoping for a good 2022. Although I haven't been heavily affected by this pandemic myself, I think I'm allowed to say I'm sick and tired of it now.
And now please give us some personal words for our readers…
Everybody stay safe, and rock on like there's no tomorrow. And don't forget to support your favourite bands folks. Preferably in a monetary manner too, as many bands are in a rough patch these days.
Cheers, over and out.
I thank you so much for answering my questions, and I wish you all the best!
---
www.einherjer.com
www.facebook.com/einherjerofficial