LAMB OF GOD veröffentlichen "Omens", den Titeltrack ihres kommenden neunten Albums, welches am 7. Oktober 2022 via Nuclear Blast Records auf die Menschheit losgelassen wird.

---
Hört und seht 'Omens', den Titeltrack von LAMB OF GODs kommendem 9. Album. Die neue Single des GRAMMY-nominierten Metal-Kolosses ist überall zum Download und Streaming erhältlich.
Fronter Randy D. Blythe erzählt:
"I think a lot of the messes human beings find ourselves in could be very easily prevented simply by paying attention to obvious repeating patterns, both in our personal lives and in a broader sociohistorical context "What some call 'omens' are really just manifestations of the fact that there is nothing new under the sun. It's foolish to ignore this, but we all do it."
Die Vorbestellung des Omens-Albums ist ab sofort unter https://Lamb-of-God.lnk.to/ möglich und bietet einige exklusive Artikel, darunter eine signierte farbige Vinyl-Variante, ein T-Shirt, einen Hoodie und signierte CDs mit einem alternativen Farbcover. Alle physischen CD- und Vinyl-Veröffentlichungen, die im offiziellen LOG-Store oder NB-Store gekauft werden, enthalten einen kostenlosen Zugangscode, um die Livestream-Ansicht der "The Making of Omens"-Dokumentation zu sehen, die in der Woche der Albumveröffentlichung Premiere haben wird.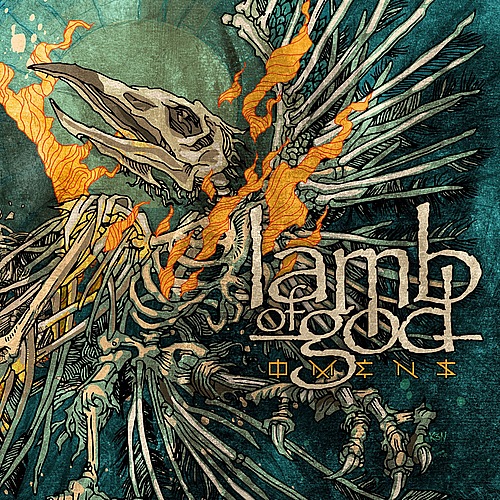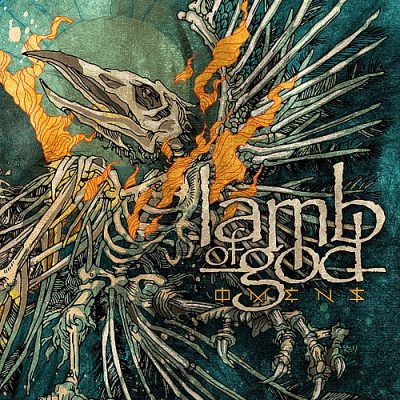 Omens folgt auf das selbstbetitelte Nr.-1-Hard-Rock-Album "Lamb Of God" von 2020, das vom Rolling Stone und NME gefeiert wurde. "Omens" ist vielleicht ihr bisher wütendstes Album. Produziert von ihrem langjährigen Mitarbeiter Josh Wilbur (Korn, Megadeth), ist "Omens" ein bösartiges neues Testament für die Band aus Richmond, Virginia, ein wütender Eintrag in ihrem geliebten Katalog. "Die Welt ist verrückt und verändert sich ständig. Omens ist eine Reaktion auf den Zustand der Welt", erklärt Blythe. "Es ist eine sehr angepisste Platte." Er macht eine Pause zur Betonung. "Es ist extrem sauer."
Die New Wave Of American Heavy Metal-Architekten nahmen Omens in den Henson Recording Studios in Los Angeles, Kalifornien, auf, einem Ort, der unter anderem Klassiker von The Doors, The Ramones und Soundgarden hervorbrachte. "Das Innenleben der Band war noch nie besser", erklärt Gitarrist Mark Morton. "Man kann es in Omens hören. Man kann es bei unseren Auftritten sehen, und wenn man fünf Minuten in unserer Nähe ist, kann man es fühlen."
1.   Nevermore
2.   Vanishing
3.   To The Grave
4.   Ditch
5.   Omens
6.   Gomorrah
7.   Ill Designs
8.   Grayscale
9.   Denial Mechanism
10.   September Song
LAMB OF GOD European Festival Shows 202205.08. RO Rasnov – Rockstadt Extreme Fest
07.08. BE Lokeren – Lokerse Festival
09.08. SK Ljubljana – Cvetličarna
10.08. HU Budapest – Barba Negra Track
12.08. FI Turku – Knotfest
14.08. UK Walton-on-Trent – Bloodstock Open Air
18.08. DE Nürnberg – Z-Bau   ***single show
19.08. DE Köln – Live Music Hall   ***single show
20.08. DE Sulingen – Reload Festival
21.08. NL Eindhoven – Dynamo MetalfestSTATE OF UNREST TOUR 2022
LAMB OF GOD | KREATOR
w/ special guests: Thy Art Is Murder & Gatecreeper

18.11. DK Copenhagen – Forum Black Box
19.11. SE Stockholm – Fryshuset Arenan
21.11. FI Oulu – Teatria
22.11. FI Helsinki – Ice Hall Black Box
24.11. PL Warsaw – Stodola
26.11. DE München – Zenith
27.11. DE Berlin – Columbiahalle
29.11. NL Tilburg – O13
30.11. BE Brussels – AB
02.12. DE Ludwigsburg – MHP Arena
03.12. DE Essen – Grugahalle
04.12. DE Saarbrücken – Saarlandhalle
06.12. ES Madrid – Riviera
LAMB OF GOD is:
D. Randall Blythe – Vocals
Mark Morton – Guitar
Willie Adler – Guitar
John Campbell – Bass
Art Cruz – Drums
---